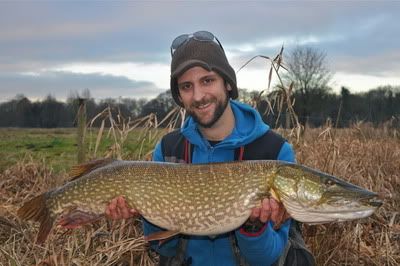 So many times in fishing, you wonder whether you're doing the right thing. Everything feels ok, but it just doesn't quite happen. Sometimes you change tactics. Other days you might even bugger off home. But when you've been granted a couple of days fishing a long way from home on a very beautiful bit of river, you just can't quit. The above pike definitely set off 2013 with a bang, but it could have been so different. I'd had no other action besides a 2lb jack all day. Too much extra pace, colour and depth for the fly to work, I felt. No interest whatsoever in sardines or smelt. And yet just one bite is enough to turn the whole day (and your stomach!) upside down. I hate putting weights on these beautiful creatures, suffice to say it was full bodied as well as in fine, fit condition. It took a 6" yellow and black Kopyto soft bait with the sort of heart attack lunge a pike angler dreams of.
I haven't had the privilege of chalkstream fishing for a while now- but it was all part of tracking down a well known angler for a candid interview. But that's all I can reveal just now! Just being on a grand looking river is enough many days, big pike or blank. But in fact nothing could contrast further with my other dabblings early in the new year.
My last pike outing had been a battling affair on the Exeter Canal. Lots of Sunday anglers and hence lots of walking to start with- for not a lot of excitement. The canal looks unusually coloured too, even well after the flooding. I usually save the techy stuff for my articles, but if I've gleaned anything from the past couple of very wet seasons, it's the value in dyed offerings and groundbaiting, just to give pike every possible chance to find a bait in grubby looking water. Hey presto! I had two typical canal pike in the 5-6lb bracket to provide some very welcome excitement.
In spite of my adventurous walk at first light, both fish came near the car park in the middle of the day, where I also enjoyed the company of Russ Hilton, who tried the quiver tip. I think the small army of cyclists racing past put him off employing his rather tasty new pole. Chance of a Tench in January you say? I won't steal his thunder in this case, but do grab a look at "Tales from the Towpath", which is always worth a read.
Otherwise, my fishing has reached even busier locations. The free fishing at Wellington town lakes will shortly be the subject of a little Angling Times feature. Not bad at all for bites from silver fish pretty much all day long on pole or waggler. Yes, the big fish are great, but there's also a lot to be said for simply fishing for bites and playing about with floats and feeding patterns. It's here that fishing fulfils that strange paradox of allowing you to be totally relaxed yet somehow happily tinkering away at the same time. Lots of fun.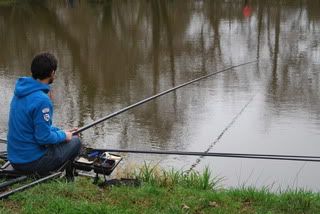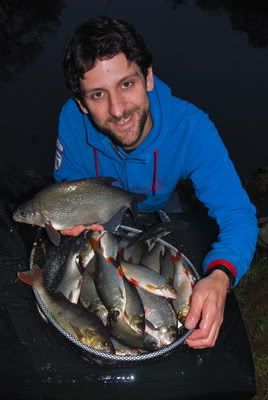 Oh- and as a final shout to those of you based in the SW who like predator fishing, we have a great meeting lined up for the Pike Anglers Club at Mill On Exe for Tues 29th Jan. Shark fishing will form an exciting topic alongside recent piking for guest speaker Pete Gregory. See the PAC Region 13 blog for more details (see "links" at www.dgfishing.co.uk).