Winter has finally arrived with a flurry of snow. Great flakes of it are tumbling down, to the extent where (if you squint) Exeter might resemble part of Norway, only with crap architecture. It's probably just as well I've already got my recent fishing and writing done for now. The highlight has been catching up with the chap above.
Who is it, you're wondering? Somebody who is probably about ready to come out of hiding after a tough few months. Yes, Bob James. As unwise as he was to be caught fishing on June 14th, the backlash has been fairly ridiculous. This is an angling legend and a gentleman we're talking about, not Lance Armstrong. Nevertheless, the decent thing to do is to apologise, and I also got some candid comments from Bob, which you can find in this week's Angling Times.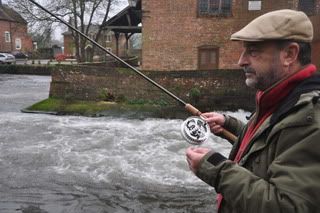 Is it worth bothering to fish in bitterly cold, snowy conditions? It's a fair question. Today I'm not so sure. Pike, chub or grayling are three just-about-possibles. Sometimes you have to literally trundle the bottom with a fly or bait, virtually dragging it into the mouths of fish. Here are some "keel nymphs" for just that job from my slot in this Month's Fly Fishing & Fly Tying magazine: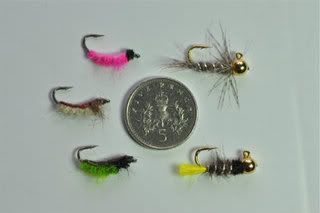 Failing the grayling on bugs, I think I'm happiest trotting if it's just some bites I want. Bread is perhaps king for this if the water is cold and clear. No liquidised stuff and tiny punches lately, but a more old fashioned pinch on a size 12 accounted for this nice roach: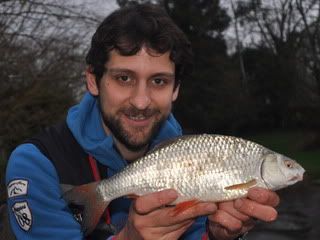 The only other note for Westcountry anglers is to put a couple of dates in the diary. We have Pete Gregory talking sharks (both salt and freshwater!) on the 29th at Mill on Exe (7:30 start). I'm also thrilled to say we'll have top eel man and colourful character Barry McConnell down for Feb 26th. The last I heard from him, he'd caught an eel in 100ft of water in freezing conditions. Now that's dedicated angling!