As anyone who likes to seek out new locations discovers, fishery owners come in all types. I've met some brilliant, supportive characters, as well as some first class nutters! I don't think some of them realise the huge importance they play in the sport- treat your anglers well and they'll be back time and again. The curious part comes when you encounter owners who would almost rather you weren't there. With perch fishing especially though, it's worth seeking out those more hidden places which are hardly promoted and where "fishery management" means a bloke hopping off his tractor and saying "that'll be six quid please".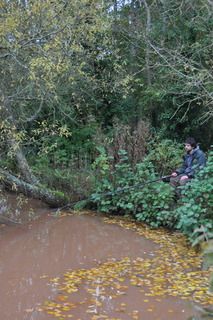 Autumn is invariably the most colourful time of the year. I'm glad in this instance I got Frazer McBain on the case again, who could make even the meekest little pond look elegant and mysterious. I've been doing more pole fishing lately for the perch. The pole is brilliant for getting accurate depths and pushing baits into tight spots- and as well as my favourite chopped worm tactics, I'm also using stepped up rigs to present small roach in perchy spots. It didn't start brilliantly on this occasion though, with a smashed pole section. Just as well the best areas are often near the bank- and this two and a bit pounder took a tiny roach close to cover over a decent helping of chop: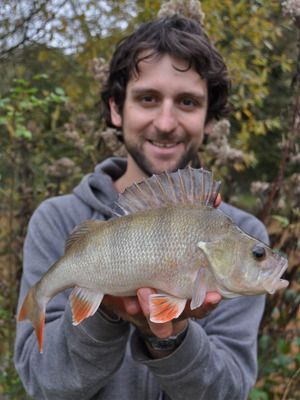 Talking of off the beaten trail waters, initial trials have begun with the PAC boys on what could be an exciting little detour. All made possible by the efforts of Adam Moxey- who has done a sterling job sniffing out the place and talking to the owner. I can't name it just yet- although the boys who came to the first PAC meeting of the season at Mill on Exe now have an inkling of where our annual fish in will be held. Top class winter wear from Mox too- he was so well concealed from the cold he looked a bit like an armed robber.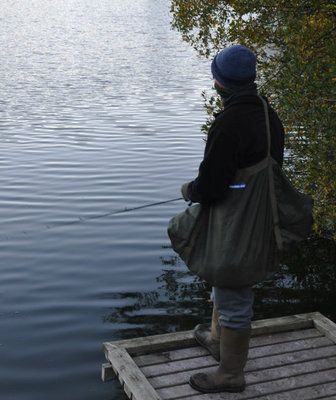 I had no pike on this occasion, but managed a perch on a drifted dead roach (an unusual occurrence on this method) and enjoyed a beautiful day in good company. Mox said the fateful lines "Just watch my rod for a minute mate, I'll be back in a few minutes" -and lo and behold, Chris Lambert was on hand to hit a screaming run and land a beautifully well conditioned double.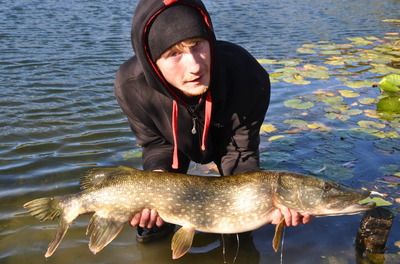 It's been a really sociable few weeks in fact, and I also had a great day out with Mox and Russ Hilton on the Grand Western. We tried wobbling, lures and flies out. All of the methods caught plenty, the place looked as cute as a canal gets and the pike were fiesty if not huge:
Definitely a month for predators then, and not only of the fishy variety. I took my other half Jo to Yarak Birds of Prey centre as a birthday treat and had a blast holding and photographing all the different birds, like this eagle: