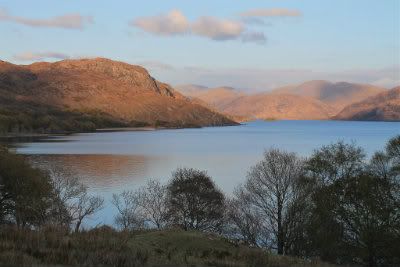 Having never been to Scotland before (shame on me), I was more than a little excited to be heading north of the border last week. Until I saw the weather forecast. Not very typical May conditions, even up in the highlands. But what you find as you break through the tower blocks of Glasgow, regardless of the weather, is a landscape of grand, wind-blasted beauty. Mountain heights and huge valleys; trickling streams and huge lochs. Other than staggering amounts of space and natural wilderness everywhere, the other startling discovery is just how sparsely populated the landscape is, comparable to Scandinavia in fact. Here is one end of Loch Shiel- a site which, if it were in Devon, would be packed with parked cars and tacky gifts: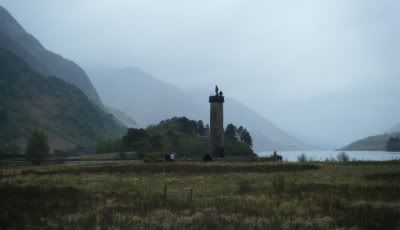 The approach to Loch Morar, our destination, was hardly less beautiful. Not sure I've ever seen whiter sands as by the river mouth here.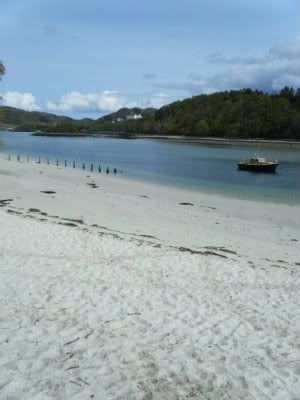 The loch itself is deep. Spectacularly so in fact, as Britain's deepest lake, with black descents to rival parts of the North Sea. Much as I love to explore, you can't beat a local guide when faced with this kind of expanse of water, so we met with Viv, the local ranger (google "Loch Morar Fishing" and you'll find details easily enough). Twenty years experience seemed a safer bet than twenty hours in this case: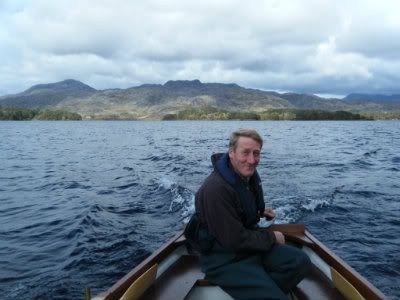 It's always fascinating to try a big mysterious water and hear the local lore. Morar has it's own secrets- hulking ferox trout and even its' own monster "Morag". From his cautious smile I got the feeling Viv didn't want to pour cold water on that particular legend. From the sheer size of the place there must be hidden monsters, was his verdict. Maybe not prehistoric beasts though- but huge eels.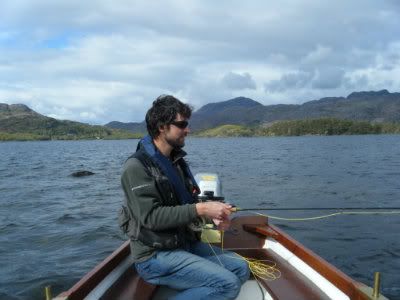 Our more modest aim was a brown trout, for which the loch is well known. Classic "team of three" tactics were employed in the face of a stout Northerly breeze. I love the sheer variation in fishing tactics you find when travelling and this was no exception. In total contrast to the painfully slow -or non existent- retrieve of the southern softie fishing buzzers, these lochs demand a healthy pull to present bushy flies through a rolling wave. It was cold work, but with Viv's experience we covered some fantastically rocky, fishy looking reefs and bays and after a couple of hit and miss takes, the rod eventually thumped over. An average specimen for Morar, but what a fresh looking and powerful trout: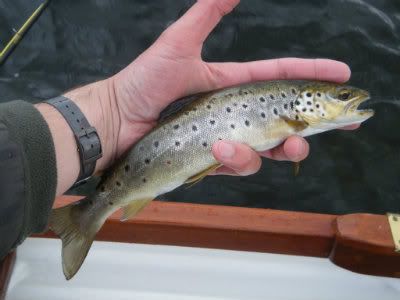 Amidst other days out in the nearby wilderness and the romantically named Isle of Muck, I also really fancied a day or two in the hill lochs. These are destinations not for the casual visitor, with hearty walks, boggy land and an icy breeze to contend with. Worth every step for their high flung grandeur and sense of totally wild seclusion however.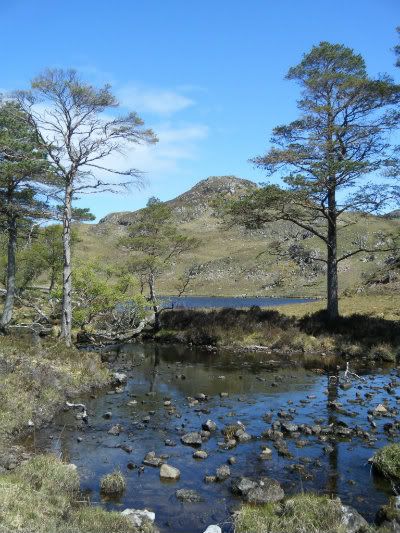 A real sucker for punishment, I even dragged my float tube over these rocky, wet climes to search near virgin water. I'd be lying if I said it was easy, comfortable fishing- but what I found will stay with me forever. In a brisk chop, I opted for classic, bushy flies to draw trout from the waves. The initial hits were from small fish- but what amazing colours. Is there a fish as varied, or beautiful, as the brown trout?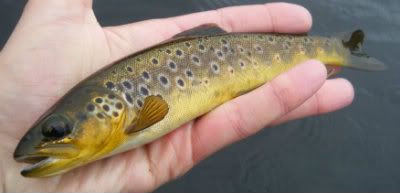 The real secret weapon proved to be the push and presence of the Sedgehog however. Shetland based artist and angling pal Paul Bloomer sent me a little selection that proved absolutely deadly. There's only one thing better than a really effective method- and that's an effective method high on visual thrills and spills. These bushy flies float like cork, making a wake across the surface which wild trout react to with explosive force. I would almost compare it to popping for pike, such were the savage hits, misses and airborne fireworks of hooked fish. Breathtaking sport: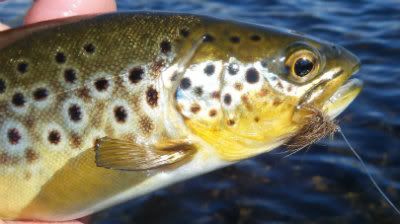 I saved the best for my last little foray however, when blown across the bitter expanse of a larger hill loch in the tube. I'd been buffeted up and down in the wind, then treated to hail. Was this any time to be float tubing? The take on the Sedgehog was brutally hard, before the fly line plunged deep under the waves. The tube span round; I lost my left flipper. I started laughing as the wind stung my face, the float tube travelling in circles and a good fish leaping clear of the water. At around 15" it was a fine wild "troot"- and an outstanding fighter.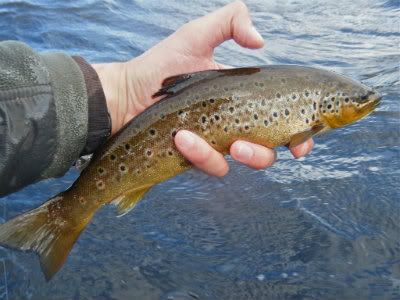 What a final day it was too, with more trout in the tube. A case of hauling your sorry backside to the far shore of the loch each time, before letting the wind take the tube across acres of rocking water casting as you go. Cold but thrilling work. When you've walked about six miles complete with chest waders and a float tube, you really feel it in your legs and arms. Never have a hot shower and a tin of beer tasted so good. A satisfying end to my Scottish trip then, but the surprises didn't end there.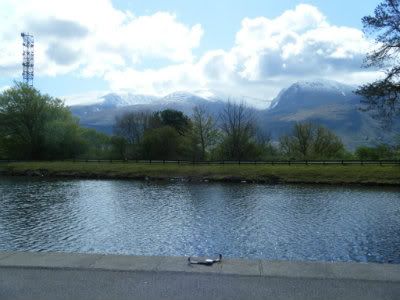 Sitting in the shadow of Ben Nevis, the Caledonian Canal was a welcome stop en route as we headed back to England. The canal anorak inside me was intrigued by "Neptune's Staircase", the crazy series of eight consecutive locks at the Fort William end of this waterway. No time for a cheeky cast, but this looks a fascinating water for another time. A fantastically clear canal with brown trout in it you say? Only in Scotland.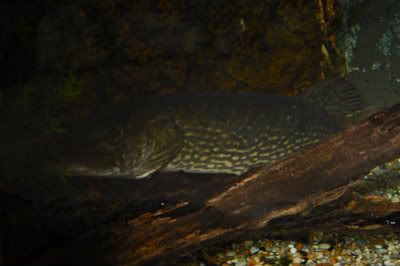 In fact, the only expected ingredient missing from the week was a hooked pike. There are none in Morar, but I enjoyed a close encounter with the beauty above in Loch Lomond Aquarium, which also has a whole host of other native species on show including perch, bream, tench and sea fish. The drive back was epic in itself- but I must say, the time passed much quicker amid the highland scenery than it did on England's motorways. The ludicrous petrol costs were about the only pricey bit of our stay too, with a week's permit for Morar just £30.