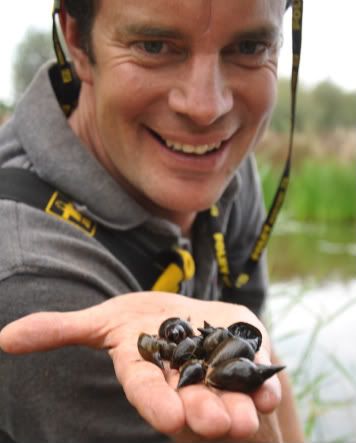 It's a curious phenomenon that in so much of modern fishing, we start from the standpoint of what baits we want to introduce rather than what the fish are actually eating. Have we got it the wrong way round? Fly fishing usually starts from the opposite perspective, but even when it comes to bait there is a lot of scope for going natural. It seems crazy at times that on some fisheries, using a lobworm would mark you out as some kind of dangerous revolutionary- but such is the stranglehold of the boilie.
Snails first popped into the equation for me some ten years ago when I watched a Sussex angler catch a succession of large carp when the rest were struggling. When I asked what the trick was he popped off a lid to reveal several dozen garden snails- he shelled one there in front of me for the hook and within five minutes the float buried and another double figure carp was hooked.
Roll on a few years and snails are still a bait I should cast more often. And in the hunt for interesting leads I couldn't help but notice the appropriately titled "Snails Lake" at Digger Lakes, Cullompton. I got even more excited when owner Ben Gratwicke explained the reason for the name was no whim, but an absolute mass of pond snails present. Could one or two of these be a killer bait? A real fishing fanatic and carp expert himself, Ben seemed as keen as I was to find the answer- and in no time rustled me up a fistful of the buggers. My aim was to fish at close quarters; no broom handles required, just a gentle lob into a few likely looking spots with a lighter rod and low diameter 12lb line.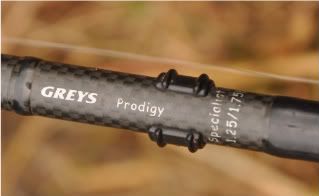 The fishing itself proved challenging- but what a pleasant surprise Digger Lakes are (www.diggerlakes.co.uk)
. No 'hole in the ground' fishery this, and I enjoyed simply walking around and watching all the quiet corners and weedy channels here. It looked a perfect stalking water- until I showed up! Try as I might, I just couldn't get a bite by alternating swims with float tackle. I'm an impatient carper at the best of times, but at least moving swims you start to form a loose plan and can put a little bait in to sit on later- in this case snail based pellets with the odd crushed real one in the mix.
As is so often the case, the fishing improved once it was dark. I presented a pair of snails on a hair, just off the rod tip in a hole in the weed. Finally, something took off at around 2am and within about five seconds I had crashed forwards out of the sleeping bag, grabbed the rod and felt a wrenching presence at the end. Well worth getting up for- and persevering with snails as bait! More on this soonish in the shape of an article...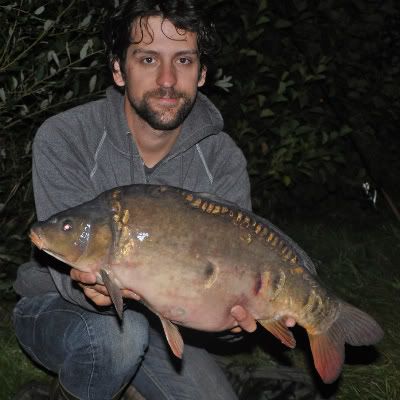 I am also delighted to see the first fruits of my recent work with angling filmmaker Steve Lockett this week. You may have spotted his feature on my Rudd on fly exploits in this week's Angler's Mail- a cracking session including a very nice brace of canal rudd. If the linked clip below is anything to go by, the DVD to accompany my book next year should be a cracker- despite that weird sensation of watching yourself back on film! Grab a look at Anglers Mail TV (http://youtu.be/t2fMeraC2dE) -hit You Tube and then search Anglers Mail is probably the easiest way, since getting a video up and working properly on blogger seems harder than Chinese algebra.