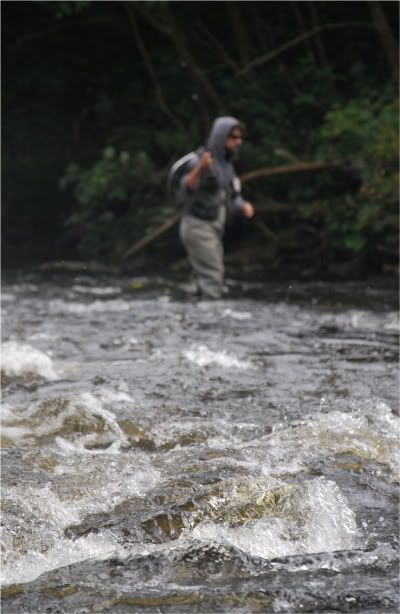 Rocky, wild and unpredictable, the River Usk offers a rough cut beauty second to none. Throw in muscular flows and some awesome trout and you might feel drawn to fly fishing techniques outside daintier traditional etiquette. Indeed when the river runs hard, presenting a little dry fly to a these solid, predatory trout feels a bit like waving a salad leaf at a serial killer. These fish eaters want blood. And in fact, even when they don't want fresh meat they're still up for good punch up. Hence my weekend fly box was filled with big, heathen creatures in the shape of woolly buggers, muddler minnows and other streamers.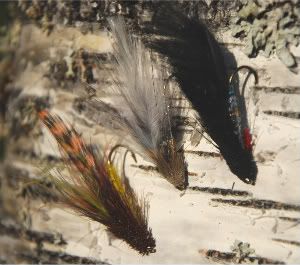 Getting up early for the long drive to Fenni-Fach on the Wye and Usk Passport, the river looked in fine fighting fettle. Plenty of water pushing. No shortage of boulders, rock ledges and other places to conceal a waiting attacker. The tactics were hardly subtle, throwing a sinking line up and across the flow before pulling any one of my ugly mob of flies kicking across the current. It took a while to hit my rhythm, but there is an undeniable excitement in the knowledge that at any moment the peace could be undone in a single, bone-jarring hit.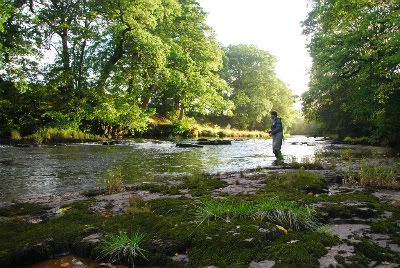 So much for the theory- it seemed that several trout no bigger than half a pound quite fancied a go, or at least had a very clear "sod of" message to my muddler minnow. It was to be an exciting, frustrating session with plenty of hits but few hookups- were they punching the thing rather than biting it? Three fish stuck in the end, including a lovely 15" brown with an impressive degree of tooth and muscle.
Overnight it rained hard and so Pantyskallog, our next destination, proved hard work and treacherous wading with raging falls and slippery rocks. Sady it was to be a tale of more misses than hits. My other half probably had a better time of it than I did in capturing this supremely rocky river in all its glory. No Usk monster on this occasion then, which is in itself an excuse to come back again. I am also intrigued by doing more night fishing in future- the one fish I managed just into dark smacked the fly like it had just insulted its mother.