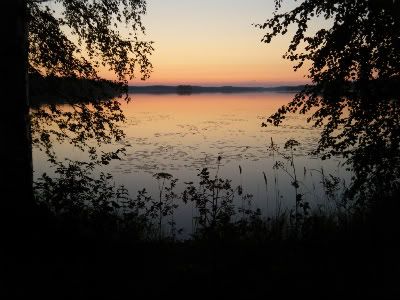 What could be better than a mega Euro-road trip? A road trip with a selection of fishing tackle sneaked into the car, of course. This years break was a long, long drive. Five countries, various bizarre food stuffs and a frightening total of 16 different beds slept in- most on the low budget end of creaking cabins and campsites. Our eventual destination was Finland- via Holland, Germany, Denmark and Sweden in that order. Where do I even begin?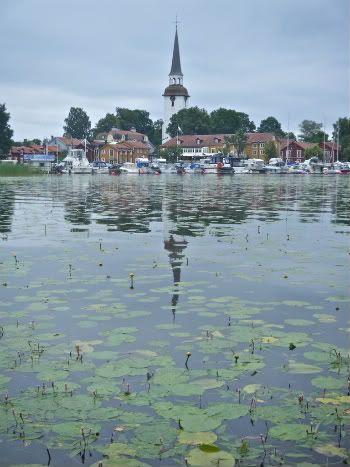 Sweden is somewhere I want to return to. We whistled past perhaps the biggest lake I've ever seen on the way out, and had a stopover on a little campsite with a lake. Predictably, I had some cheeky casts but the fish were elusive in the scorching hot weather and only the odd little jack pike proved willing to bite. Nevertheless, I loved it. Above is a typically traditional Swedish scene near Gripsholm castle, not far from Stockholm.
A ferry across the Baltic Sea came next. What a place! Countless islands and little hideouts, a real playground of the rich (like so many beautiful and secluded areas!). The ferry was fun too. Tacky cabaret bands, general lounging and gypsies gambling on the decks. A mixture of excess sleep, coffee and high cholesterol foods saw us roll on into Finland late- another day, another campsite, another random look at stacks of passing rivers and lakes.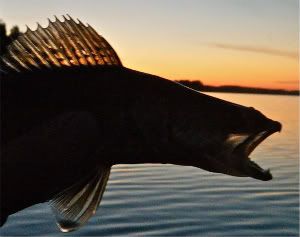 Finland was, unsurprisingly, beautiful as always. My other half wanted to visit in the balmy weather of August this year- great for catching some rays, not so great for catching fish. It gets bloody hot and they tend to switch off or go deep. In fact, try as I might, I struggled at first to grab more than the occasional jack. Jigging over deeps was little better for sullen, sleepy zander. The trick was to try the less sociable hours of the day with lures and flies which resulted in a good few zander in the end, along with perch and pike. They were nothing huge, but I always find it a thrill to connect with this perplexing, challenging species.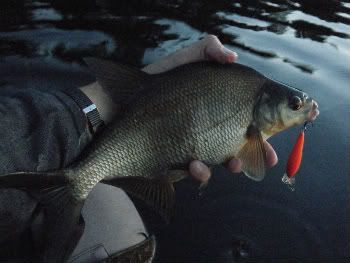 Random catch of the holidays was to arrive in the shape of this bream to a Rapala plug. It felt for all the world like a zander. Sadly absent were the other unusual species I've managed to catch on previous visits, such as ide and whitefish. Never mind- the lakes were beautiful and there's nothing quite like a hot sauna and chilled beer when you're cld and tired after an evening paddle in a float tube. The tube is an absolute must here, with access tricky and boats and guides for hire fairly scarce.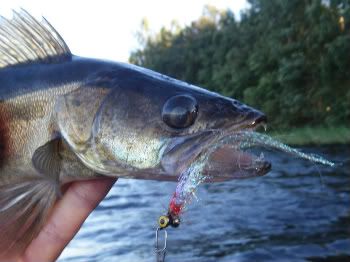 It is with a tinge of sadness that I think back now on Finland- with property for peanuts out here, we had invested in a little summer house, hence my annual visit to Finland. With harder times and more places on the hit list though, it was time to settle up and move on. The old haunts were as beautiful as ever- albeit devoid of big pike this year. For anyone thinking of a Scandinavian trip I woudn't recommend August, May and June have been miles better for fishing. Nevertheless, the place has a stark beauty and is as much about freedom and true wilderness as anything else. I spent as much time with a camera as fishing, just trying to capture the feel of the place. Below is the Great Woodpecker- a more perfectly primitive pike lake I may never find in my life time: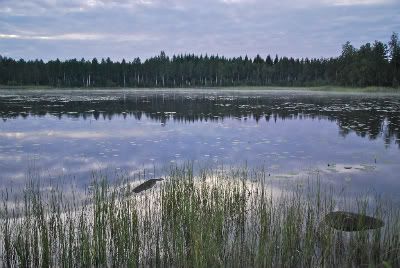 Even with the fishing slow, it's always fun to go lure shopping in a fishing mad country. The market in Mikkelli, central Finland, is always an eye opener for local, home made specials along with the world famous Kuusamo and Rapala classics. I also like the fact that the market seller has his own tank allowing you to see each seductive wiggle in action for yourself!
creations range from the deadly to the brash to the downright bizarre. Fancy catching a pike on a mermaid?: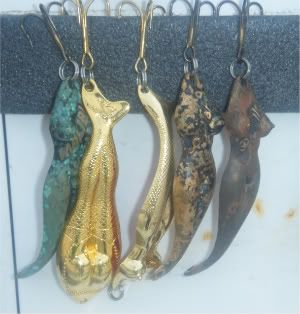 The hand made, home rolled lures are a particular joy and I was keen to track down some intriguing central Finnish specials which combine the wiggle of a plug with the fluidity of fly materials. The main man for these in the area is now dead (as indicated to me by locals with the international finger drawn across throat "kicked-the-bucket" gesture). Time to stock up on some of these beauties- now a (very) limited edition you might say: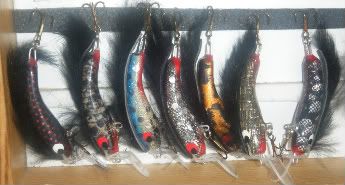 Our long road trip thus made a mazy route back across Scandinavia. Stopping south of Stockholm, I was again taken away by the granduer of the Baltic sea, a place where pike rub shoulders with prawns and herring. The biggest pike I saw in the whole trip followed a lure I cast into a boat yard on a morning stroll. A great sight, and I only wish I'd stayed longer. On any travel though, it's the unscripted experiences which you remember best. Like meeting Aussie artist John Dullaway- who uses techniques inspired by native Oz to create authentic works. As an angler, fish are a real focus and I felt that the shape of the pike went perfectly with his primal, bold paint schemes- so much so that I now own one of John's great pike canvasses! When i get hold of John's new site address I'll post on my links page so you can see more of his work.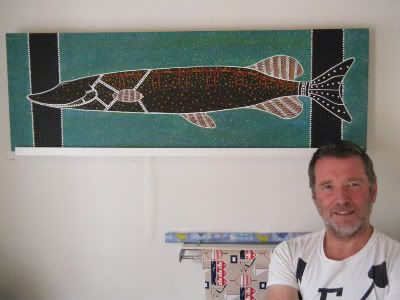 The beauty of a road trip is thus that you see so much; the disadvantage is that you never stop long enough in one place to really get your teeth fully into whats around, although I now have no shortage of interesting leads for next time! We tried a Danish trout fishery on the way back, but alas with baking hot weather the fishing was poor again. A shame, because I thought I had stumbled on possibly the ultimate in crazy mixed fisheries- a trio of interconnected lakes containing trout, zander, salmon, pike, roach, perch and carp! Only roach resulted from trying every trick in the goddamn book.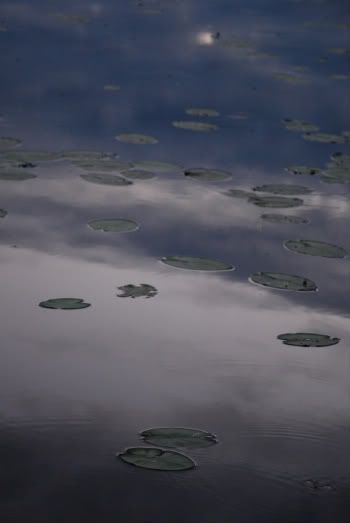 More gratifying was the Netherlands. In fact I loved it there. I've always had a bit of a thing about canals and so I felt right at home- plus the Dutch are such civilized, laid back, great people. I caught pike and perch in a little rustic river, before trying one of the canals in Rotterdam. Surprisingly beautiful: birds nesting below motorway bridges, bicycles everywhere, house boats among highrises. Strangely stirring.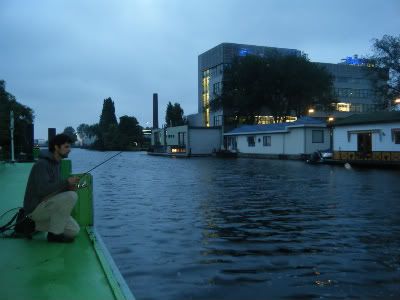 Last Euro stop of all was Amsterdam. No fishing this time, but what a great city. Rather than get wasted or trawl the sleazy end, I enjoyed some of the interesting bits and, you guessed it, more gorgeous canals. A great place- we have city foxes, the Dutch have city herons!: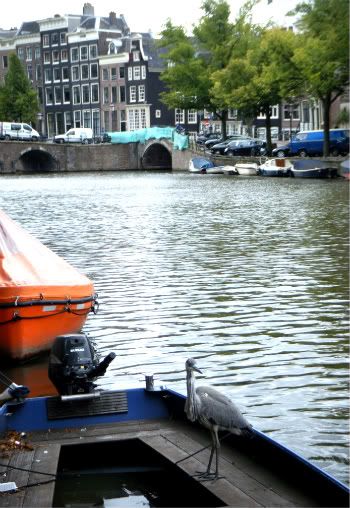 Meanwhile in blighty, we'd been informed by various European neighbours that London was ablaze with riots, looting and general chaos. Not what you want to hear when you're stopping in... London, shortly. In fact, ever since departure abroad it seemed the world had gone mental- shooting in Norway, Amy Winehouse dead, then the riots. What next? I decided to escape the madness in London Aquarium for the afternoon. Well worth a visit- if only to test your photography skills against the fiendish combination that is dim light and subjects which refuse to keep still. A worthwhile exercise, and some terrific displays of British sea and coarse fish too I might add. Great displays: