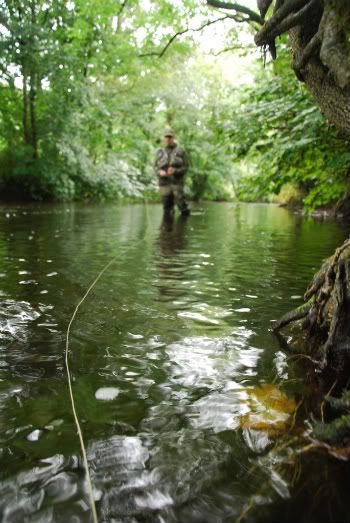 Sea trout fishing has its cliches just like any other branch of the sport. You go at night, with big surface-waking flies right? Not necessarily. My brother has been enjoying some good day time sport around Devon's quieter corners. The Lynher in Cornwall is especially tempting; fairly close to the sea, with plenty of dark, shady holes for these creatures to shelter and it's also a very affordable ten quid a day on the Westcountry Angling Passport scheme.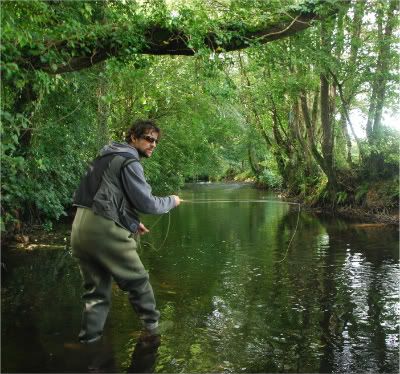 It was to prove an interesting exchange of ideas. Whilst my previous few seasons have been focussed on coarse fish on the fly, Ben has developed a real obsession with salmon and sea trout. These little rivers are stirring places- and the sea trout can be tempted on small goldhead bugs in daylight hours. Basically it's like using stepped up trout gear and trying to get an aggressive response from sheltering fish. Like salmon they don't feed in freshwater but sometimes react to the flash and movement of a fly. We had to work for it though, with lots of tiny brownies plus a party of canoeists not exactly helping us creep up on these shy fish.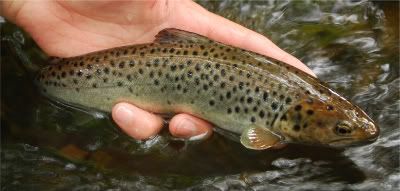 After many yards of careful wading we began to spy tantalising signs of life- the ripple of a phantom fin near the bank; a sudden beam of silver turn in the current. A 12" fish finally took my goldhead bug, giving a fine scrap on light tackle- light, metallic sides soon identified this one as a sea trout. Not a big one, but beautiful.
Sunday's trip was in the less wild setting of the town centre by Mill on Exe. Joining me was Chris Gooding, who spent many happy days as a boy catching fish of all kinds here- and has lost none of his enthusiasm. With balls of steel, he decided to take up some precarious trotting positions right on the edge of the weir! A flashback to mispent youth perhaps- where back in the less health and safety obsessed 80s he once ran across these slippery spots with a rod.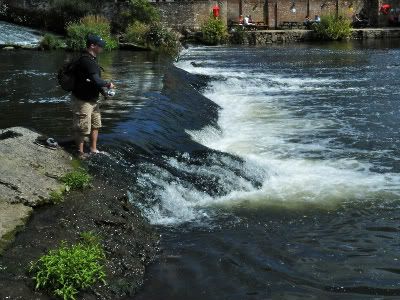 We tried the classic offering of silkweed for roach- which were sadly absent, although plenty of dace and even a small trout fell to maggots. Fellow city slicker Ian Nadin also managed a trout on a small jointed plug and a beautifully marked one too:
After a quick pint at the Mill we pushed on for a spot of wet wading, this time with a fly rod. Chris and I had a great fun hour or so casting at (and usually missing!) schools of flashing, fast biting dace. Proper Sunday afternoon fun and there was also a bonus in store. I'd spotted a reasonable sized chub earlier, prowling under branches near the bank and a a carefully presented goldhead nymph got an instant response from this scrappy city two pounder, whose big mouth truly dwarfed my little nymph: