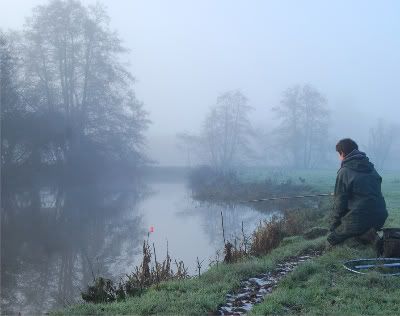 When ice strikes just about everywhere, the only real option is flowing water. And where better than the River Culm on a misty morning? I should visit this pretty river more often. The pike aren't big, but they're beautifully wild here, just like the river itself. And in the midst of grabbing more feature material it's always a real pleasure to go purely in search of some fun- just one rod, a few basics and a lengthy stroll along a quiet bank with a couple of friends.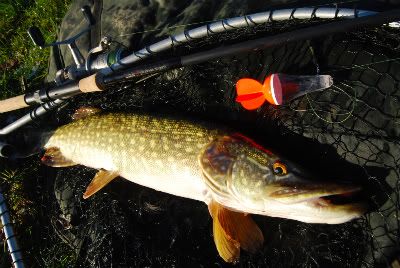 Sadly the stirring beauty of the Culm wasn't matched by any dramatic fishing. One tentative bite was the sum total of our efforts, a lean four pounder briefly breaking the stillness of the river. No need for overkill with tackle here and I am very much enjoying Greys 11' Prowla deadbait rod- finally, a blank geared not towards shark taming but simply getting a good bend on "fun sized" pike waters!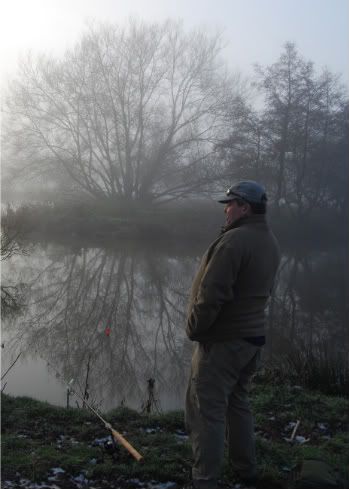 As the mist cleared and the Culm produced no further bites we then decided the Exe was worth a look, heading for the town. A dead pike in the margins provided a sorry sight to greet our arrival- and further evidence perhaps of why I continue to bailiff for Exeter AA. Good to see therefore that those we met on the day were well geared up with unhooking mats to deal with this dodgy, concrete environment.
On some days you have to remind yourself there's actually life in these waters- and today it took several moves to buy a bite, Russ Hilton connecting with a lazy bite to tame a nice city pike of just under seven pounds.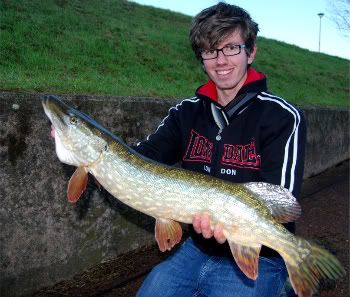 On a final note I'm also delighted to announce the next T-shirt design destined for sale very soon. Some of you will recognise the inspiration- a real stiff upper lip type statement for the recession angler! Do have a peek at the site for more options, plus some other late additions (www.dgfishing.co.uk)