Some good news and bad news this week. But I'm afraid I must start with the bad. Whether anglers like it or not, the places we love best and the fish populations we take so much care to maintain are never left alone for long. Two current threats are very much to the fore at present in Devon- but also nation wide.
So what has a picture of the Exe in its summer prime (above) got to do with this? Well, perhaps it illustrates exactly what we must fight to protect. Hydro Power is the biggest menace to our rivers for many years in my opinion. Without consulting anglers at grass roots level, the EA is busy pushing through new plans via the back door. Bad news, because case studies show clearly that even the most carefully implemented hydro plants alter habitats significantly- they reduce flows in key areas, damage fish and ruin key angling areas such as weir pools. In fact, what is rolled out as "Green Energy" is actually nothing of the sort. The threat is ominous- "No salmon in the Exe within ten years" according to one expert. But coarse fish are equally threatened. I am currently gathering facts for the national press on this, but all of us can act in several ways: 1. contact the EA and let them know how you feel ( email: enquiries@environment-agency.gov.uk) 2.Back the Angling Trust (www.anglingtrust.net)
3. Write to your MP (Ben Bradshaw for Exeter), local wildlife groups and any other interested parties. This is a fight where we have many allies if we get off our backsides!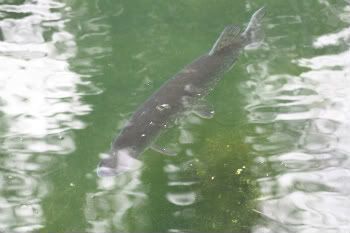 The second worring issue is poaching- with pike in particular at threat. And again, non-action is not an option. Nightlines are cropping up again and information is key- take down details of any dodgy individuals with times, facts and even vehicle reg's. Don't grumble, act: The EA have a 24hr hotline on: EA 24hr Hotline number = 0800807060 It only needs one or two convictions and the message will quickly get out to these criminals (and there's no other word for them).
On a lighter note however, everyone is welcome to the Xmas PAC meet this Friday at The Barge, Halberton for 7 30pm. Not only do we have a cracking film screening (Dean Burman's seminal pike film "Lair of the Waterwolf" and a signed copy to win) there is also the lure of our monthly prize draw and a Christmas tackle sale- sure to include some tasty pike gear as well as other excellent kit. A buffet and the pubs usual selection of top tipples should ensure a great evening! See the Devon PAC blog for more info: http://devonpac.blogspot.com/