Two unlikely recent leads of late. Both a bit of a longshot, if I'm honest. But I do love following up accidental clues- whether it's old cuttings, local rumours or simply that little water you drive past by chance. The first trial has been, quite literally, the pursuit of a strange quarry. A flooded quarry, to be exact, along the backroads of mid Devon. What might you find here? I had only the vaguest idea. With quite imposing depths even close in, I was glad to have brought a 6m float rod- a really useful tool for awkward waters. Typically, with the trout season just over, the first fish to take a maggot hookbait was a brown trout. All head and no finesse this one: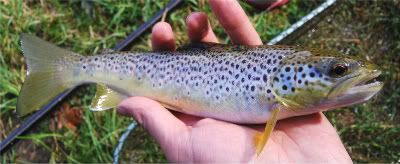 The shady banks looked tempting all around- but the next surprise was the less welcome sight of around two dozen canoeists. Oh Jackson Pollocks! I had to wrestle with myself to keep well mannered as my swim was churned up by flailing paddles and splashing kids. Non anglers just don't get how easily fish are spooked- as I'm sure most of you already know! When things had settled down however, a few more bites arrived and a pair of supremely dozy bream capped off a more peaceful end to the day: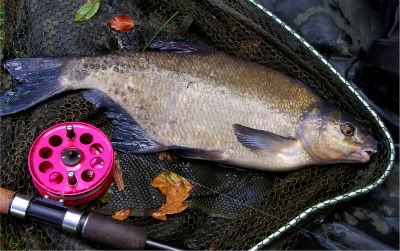 Tenuous lead number two has been the pursuit of barbel in the tributaries of the River Exe. Whilst he adult fish are small in number according to local sources, small barbel are becoming a more frequent capture throughout the system. Russell Hilton joined me on a very muddy River Culm to take up the challenge as we tried meat, worms and other baits in the coloured water. Encouragingly, Russ took two little 6-8oz "barbelettes" not far from here this summer. Are these invaders breeding?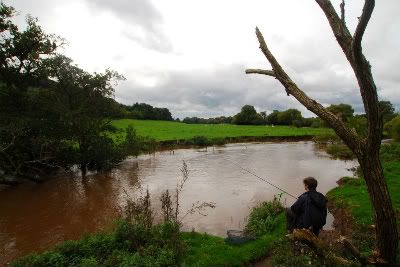 We moved onto the Creedy with a similar lack of any action- not even a dace come to think of it. So where are these Devon barbel? The trail quickly gets as murky as the rain swollen river itself. When the rain stopped however, I was surprised by just how mild the day was and just how many mini beasts were on the banks. An hour or so with a macro lens proved a good deal more entertaining than the fishing in the end. Sort of in my blood this kind of thing- my grandfather ran a microscope company in Manchester many years back and I spent a lot of my childhood looking at bugs and all manner of oddities from blood cells to bee stings at extreme close range. Here's a rather handsome grasshopper from the river bank. What a poser! He was even well behaved enough to let me set up a tripod and get right up to him: