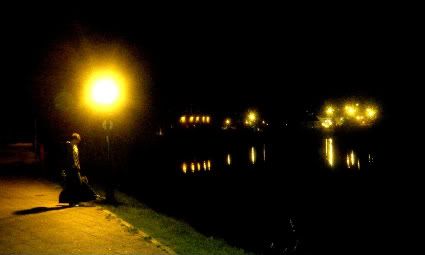 Traffic hissing, dead leaves drifting. Boozed up yobs braying and the river licking past like black diesel: such are the strange sensations of friday night on the Exe slap bang in the city centre. There's probably a reason few people tend to fish here-and I was glad to be in the company of Rob Darby for a few hours piking.
If nothing else, the town sections are well lit; just as well as we left it late, rushing to the bank as the day gave out. With my last deadbaiting session way back in March, it had been a case of scrambling through various gear to tackle up for the evening. Quickly grabbed were some mackerel, wire traces and a tin of bitter for good measure.
For perhaps two and a half hours nothing happened, save odd twitches which were probably small eels. We avoided eye contact with one or two groups of young boozers and some truly idiotic comments from local neanderthals- but such is fishing in the city centre. Hence the obvious need to keep a low profile. Finally though, my pike float wavered amongst the dead leaves before sneaking under and away. The fish did little until it neared the bank- then suddenly taking offence and making the reel groan. A lovely pike to kick off the season, long and looking well fed: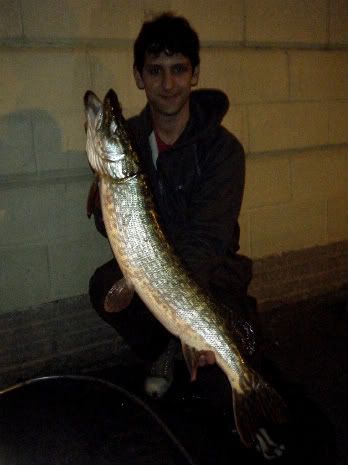 Safety issues aside, a two man operation also made for much easier handling and a swift release after one or two snaps. A fine result after all those obligatory "you won't catch nuffink there" comments earlier on. The only other encounter of the evening was with a retired gent who told us about his salmon fishing and shooting exploits whilst using more foul language than the townies themselves in the process!
Urban, it might be then, but the Exe proved more productive than my other trip for the week, to Creedy in search of carp. Clear conditions didn't help- but I really did fancy some kind of action by fishing maggots and bread in subtle fashion. I like to go lighter here- the carp are so accustomed to boilies and bolt rigs and yet I always seem to catch more on bread and scaled down tackle.
Paul Hamilton also drew a blank for the carp, unusual for him here, as did the whole lake aside from one very small common. An hour of trying into darkness only yielded an eel to Paul's lobworm. Frustrating stuff- although a good deal safer than tackling the town.