With a plan to ressurrect the Devon Pike Anglers Club on the go, this weekend was a great chance for a preliminary get together. Tiverton Canal seemed a good choice for a friendly match, the theme being two teams of anglers using different methods.
In the blue corner we had the lure boys (R to L: Dave Smith, Ian Nadin, Rob Darby, Lewis Palk)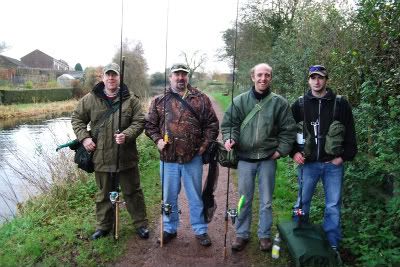 Next up, the fly guys (R to L: Me, Chris Gooding, John Garnett, Steve Moore)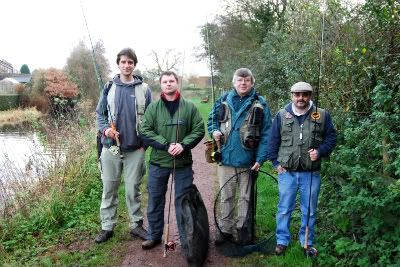 Despite both teams talking a good game, the canal proved tough starting out at Sampford Peverell. It was clear enough, but both teams struggled to get any interest. The fly squad were quick off the mark, not with pike but banter ("It's the lure anglers- they're scaring our fish off").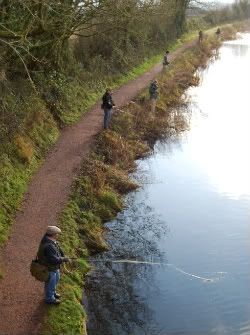 The lure team struck first though, with Dave Smith taking a welcome 17" jack. With Tivvy being generally stuffed with pint sized predators, we decided to measure fish rather than weigh them.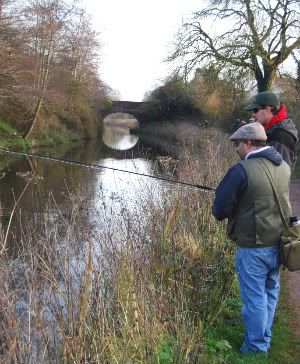 The first catch didn't signal the start of any dramatic action however, and it seemed that even the smallest pike might prove vital. Odd bites did follow, but nothing stuck, until I managed to close the gap for the fly team with a skinny little pike of 15". Game on! Finely balanced then- but who would score next? The lure anglers had already started harping on about their method being "more selective"- their fish being a massive 2 inches bigger!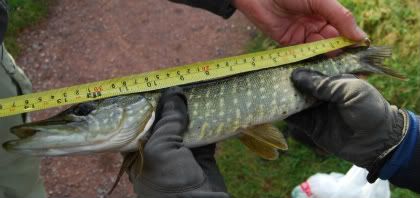 Shortly the fly worked again though, this time for Chris Gooding with another 15" jack. Chris is a keen fly angler, but this was his first fly caught pike, making it doubly satisfying. Both teams were now casting with a vengeance- but still the fish proved reluctant and we seemed to hook more trees than pike!
Finally, after many metres of bank trodden the fly team went clear with a toothy little bugger of all of half a pound, before it was decided that it was high time we hauled ourselves off the cut and into the pub for a post match pint.
So, it was by no means plain sailing but the fly anglers pinched victory on a tricky day. Perhaps a slowly presented fly is as good a method as any when it's cold and the fish are inactive? Or maybe we just had luck on our side! Either way, everyone enjoyed a fun day out. A great gang of anglers, good banter and a nice little field test for a friendly match format- we stuck together, leapfrogging but making the rule that no one could stray too far ahead. Hopefully the next time we get out as a group the pike will be in a more cooperative mood.