Sunday, boring Sunday. No encouragement required to shoot off to the Somerset Levels again for some more pike finding. Had a look at The Huntspill, South Drain and Cripps River (which isn't actually a river) today. The best bit? Taking a long walk and seeing nobody in sight for hours. The closest I got to being harrased was a herd of very curious cows, who seemed intent on studying my fishing tackle and eyeballing me.
The Cripps was particularly enjoyable- shallow as a boy band and very weedy. Deadbaits were a dead loss frankly, but a quick throw with soft lures got some interest. It was one of those days though- lots of jacks, few properly hooked. Partly because it was so weedy I took the treble hook off the suspending Storm Shad they took a liking to.
The pattern seemed to be little clusters of pike with long empty spaces in between. Finally though, one pike stayed on, taken by dropping a deadbait in front of a fish that followed a lure in but wouldn't take. An utterly ballistic fight too for a fish of five or so pounds, a very skinny brute that looked in need of a few more roach for lunch.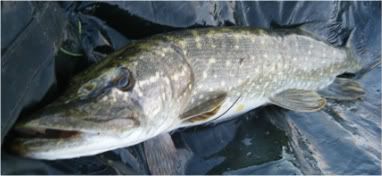 A long way from being a red letter day then- but what a fantastically peaceful place to roam. And on the walk back I saw the unmistakable shape of a barn owl swooping over the trees. Magical.