Fishing is an odd sport sometimes. You don't always get what you deserve. Sometimes you can fish for just a few casual casts and get a result; next week you put in maximum effort for very little. Which has been the story of the last week.
The Somerset Levels looked prime for a long walk and hopefully a few pike on the Kings Sedgemoor Drain. I love these drains and long venues- not convenience fishing, but rewarding for those prepared to search far and wide. Sadly it was one of those days when conditions looked perfect but only a handful of jacks were prepared to have a look- just the one made it to the bank, from perhaps a foot of water by a bridge, literally right under the rod tip.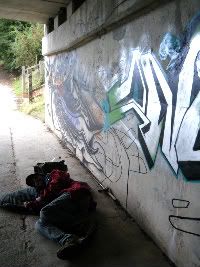 Otherwise, the only real lesson was courtesy of Rob Darby, on the dangers of cider and falling down wet steps the day before. In the above picture you might be forgiven for mistaking the lad for a pikey hobo, rather than a pike fisherman.
The only other action (or lack of it) was a trip to a very soggy Chew Reservoir. The trout were surprisingly absent to fry patterns, and the pike not especially active either with just one jack and two other knocks on decent sized pike flies. The water level seems alarmingly low at present, ruling out some of the usual features, and some areas seem muddy too. Perhaps no surprise that all the bites came on brightly coloured offerings. What a foul day too! My kit is still drying out as I type this...