As someone who is always coming up with hare brained ideas, it was good to test out a novel little twist this weekend. A method feeder incorporated in a sliding float set up? Sounds odd, but I reckoned it could work pretty well- a half ounce float using a method feeder and fairly short hooklength buried inside an oily, sticky mix.
Rob Darby joined me on a trip to Torquay harbour, to dodge grockle boxes (that's my Westcountry speak for touring caravans) and fish a windswept sea wall.
The going was fairly slow, with lots of the regulars biteless. Gratifying then, that this offbeat idea worked pretty well on the day- you get no annoying tangles and a potent groundbait mix right by uour hookbait on every cast. The mackerel were oddly scarce, but we had one a piece, along with garfish- that seemed to respond especially well to the method. Using fairly light specimen rods also provided a decent scrap from the gars, one of which was kept for bait.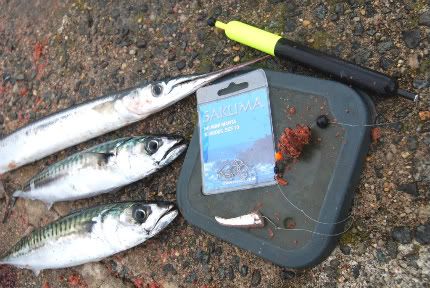 In a way, I'd love to have seen the damage on a really productive day- but I guess tougher conditions are perhaps a better test. The method mix seemed spot on; sticky enough to stay put on the cast and release a constant scent trail, along with some chopped foulness to keep fish interested. In fact, the more I think about it, the more it makes sense- perhaps not such a crazy idea after all and I'm sure it will also score with other species like wrasse and pollack.