An unusual week all round really. First stop was a quick spot of trout fishing in just about the last place you might break out a fly rod, the town of Tiverton. Despite all the empty tinnies, bricks and crisp packets there is a surprisng head of brown trout to be found here. Provided, that is, you don't mind people looking at you like you're crazy.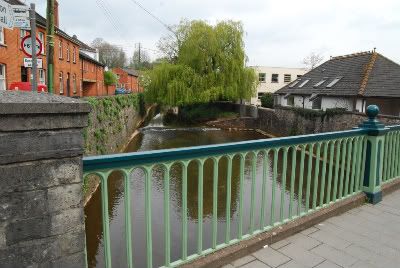 It was a little adventure in any case- I was expecting tiny trout, but took two 11 inch beauties from the little brook that runs right through some of the not so pretty parts of town. Amazing! I really thought I'd lost it when two friendly hoodies told me "keep going upstream and you'll get to paradise". Paradise fields, I think the area is called, is pretty far from paradise- but along the way there are some sweet little glides and pools. And then it got better- by a concrete slipway I did a double take as I saw a spotty head pop up twice to grab a passing morsel. Within a second of popping a dry fly on the spot it was game on with a proper Townie Brownie! Perhaps the water isn't so dirty here after all- and I always love to be surprised:
Today was a far cry from an urban brook though- a jump to the vastness that is Chew with two senior Garnetts in tow. Trouble was we couldn't decide whether to go for the trout or the pike and ended up dabbling with both. The rainbows were surprisingly tricky to nail at first-although a switch to a cormorant did the trick for the stockies:
As for the pike, we also got our kicks with a few jacks to six pounds- but no beasts. The most bizarre spectacle was seeing a pike on the line regurgitate a roach in mid fight, which was promptly grabbed from the surface by a waiting sea gull! A strange week indeed.