The national treasure that is the British Summer continues to work its magic- that wonderful July downpour along with our own extremely lame reaction of surprise and mild disgust. Still, if anything the fishing is usually BETTER when the weather is worse- or is it just me?
Enjoying the last of the recent T-shirt weather was Mark Wills from Exeter Angling Centre. I shadowed Mark with the camera for a feature session catching sea fish on coarse tackle at Brixham. Mark took a fantastically colourful mixed bag on float tackle. Something of an expert in this department, Mark uses groundbait, wagglers and light line to great effect; watch this space for a cracking summer feature!
Meanwhile, my own fishing has been soggy but productive. A rare trip to Creedy produced a twenty pound carp, plus two smaller samples, to old school tactics: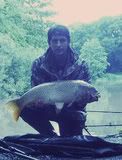 I just love the rain here. For one thing it thins out the number of tackle tarts, using their bait boats to send rigs twenty yards out. Not having three high tech set ups pointed into the middle of the lake perhaps marks me out as a bit of a heretic here- but what the hell. You can keep your boilies and the rest- my fish all came on margin fished bread paste, over a generous helping of mash thrown in at regular intervals. The irony is that a second rod with boilies produced nothing. The prime bait? (-blush-) Somerfield value white bread. Those carp are probably still constipated.