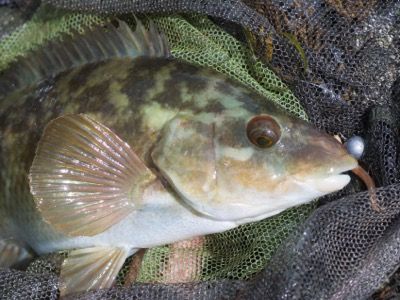 It's tough coming home after a holiday. Especially when there is great fishing involved. Great fishing that you know you won't be able to afford again for a long time! So what is the answer? How do you deal with a holiday hangover?
Perhaps the easiest option, after a few days of catching up with work and sleep, is to get back to the bread and butter fishing that you know and love. Because the stuff on your doorstep is also good fun. In fact, had you arrived from a totally different country you would probably be wowed with a lot of it. Because even an urban, free fishery has mystery and something new every time. Even if it's in Tiverton or Torbay, not California.
When you live by writing of various kinds, with fishing a big chunk of it, a sense of perspective is vital. Never mind living the dream, you have to work at it- and if you're not careful you can kill your passion. Which is why I always make sure that besides the "serious" expeditions, where fish, pictures and words have to be conjured up to order, I always make room for casual, fun fishing. Because the moment you lose sight of that laid back pleasure in the simple things, it all becomes just a job.
Time is incredibly precious. Until the eight day week is invented, I will continue to steal two hours here, an afternoon there, to get my fix like everyone else. The way I see it, this is healthy.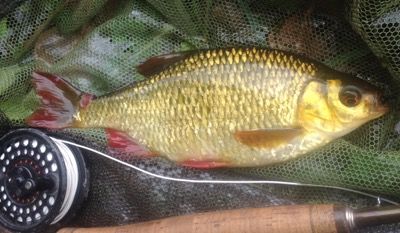 Rudd fit the bill perfectly- and there is no better place to catch them on the fly than the smaller canals and drains in Devon and Somerset. I had a real challenge on my hands on the Tiverton Canal though, with a quick afternoon off cursed by fierce gusts of wind. Not only does this make casting a pain, you just can't spot the fish easily –or even the rises.
I found one or two twists and turns, after a fair walk, where the wind was less fierce and I could at least spot the fish. I had several that I could pick out in the upper layers, all to spiders and little beaded nymphs in sizes 14-18. And although high winds didn't help with location, the fish were up for it. I saw quite a large fly in the drink, in fact, with a rudd taking three attempts to nab it from the ripple!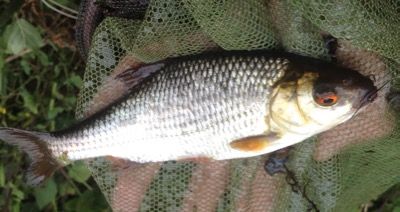 Roach also showed up, along with a few perch, all sitting in the top few inches of water. Most were more than willing to take a fly, the breeze perhaps helping to mask any less than delicate casts. Sometimes it was tricky to spot takes, so I resorted to adding a little floatant to the leader about two feet from the fly and just watching for small pulls before striking. Not big fish, but fun on light tackle and all in the space of just a couple of hours. Small perch were also there for the taking on a tiny minnow streamer from my coarse box.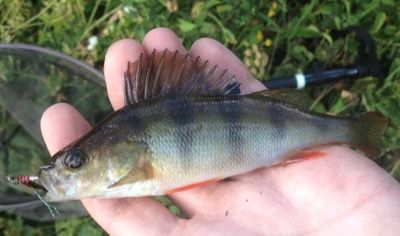 Rather than face the rush hour into Exeter, which is quickly starting to resemble Essex in the congestion stakes, I decided to take a last hour on the River Lowman, Tiverton. Ironically, the breeze was a help rather than a hindrance with the small trout which are far more easily spooked than rudd and roach.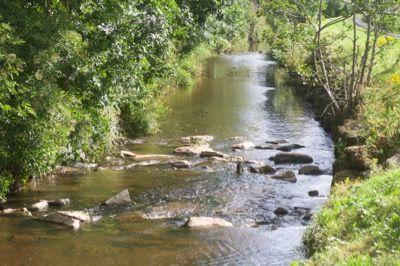 This is a pretty stream, if you mentally blot out some of the more industrial background. In fact, man altered streams with little weirs and falls tend to produce well, with the pacy sections quite forgiving, even for a tall, ungainly angler. Tiny emergers and wets both hit the spot: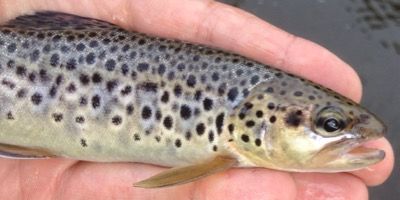 Perhaps the best part was the accidental crowd of kids who decided to join me though. After telling me that cheese was better than what I was using, I managed to pick out a lovely slightly better fish right before their eyes.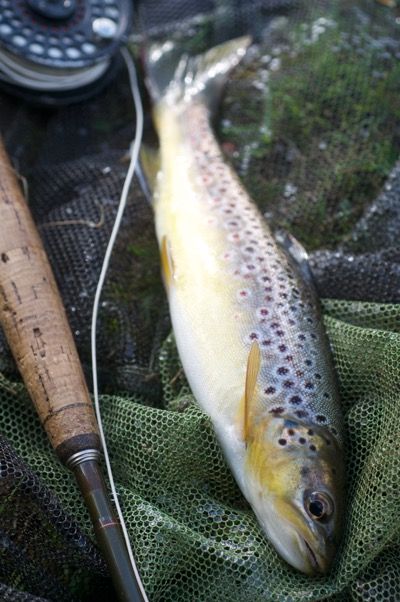 After this, the audience multiplied, as did the questions. And there were some humdingers:
"Is that a real fly?"
"What is the biggest fish you've ever caught?"
"Can you be arrested for pushing someone? This girl in my class says you can."
They were great fun- and although their antics probably didn't help me catch many more trout, I think they learned a little about fly fishing, and trout, and not scaring them. In an age where we're continually told that young people are bad/lazy/addicted to technology, it's refreshing to see kids racing pushbikes, crawling along the banks and hopping in and out of a stream.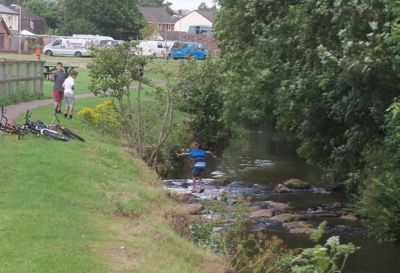 The next fishing window I had was another piece of quickfire opportunism, this time on Brixham Breakwater with the LRF fishing tackle on the way from work. This time I was hoping for mackerel and pollack, but with the tide still quite low and locals complaining about the local seals scaring off the shoals, I thought I might have to adapt. I quite often wonder if these things are just excuses, but looking over the sea wall, I did wonder if they might have a point: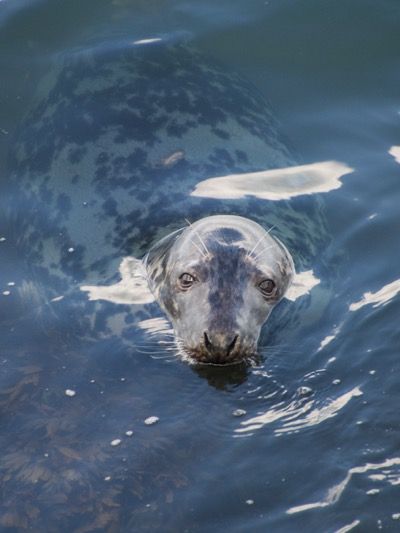 I couldn't tempt a mackerel, and the winds were brutal on the outer wall, so I switched to the inside, where there are usually plenty of modest wrasse and mini species to go for, which usually escape the attention of the feathering brigade.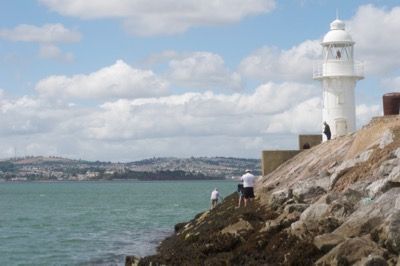 I managed to land three up to about three-quarters of a pound quite quickly, all on Texas-rigged Isome type worms, while getting chatting to a chap escaping for a quick hour away from the wife and kids. He wasn't catching and I could feel his pain. Having only a small window of opportunity can be frustrating. So after the next fish, I decided to play nice and give him the lure and rig I was using. A mere three minutes later, his lure rod slammed over and I had to run back to him with the net!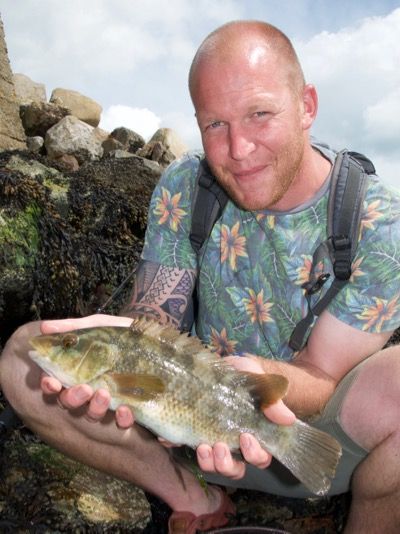 A nice ballan wrasse it was too, very fit and probably as big as my four put together! Still, I was as happy as I would have been catching it myself.
The older I get, in fact (and don't let the beard fool you, I'm no spring chicken any longer) the more pleasure I get from helping other anglers and sharing knowledge. Teaching many people to fish over the past few summers is one of my quietest yet proudest achievements. I get a real kick out of launching others into the world of fishing and, hopefully, equipping them with skills to help them enjoy many years of peace and enjoyment- and I run various guided fly fishing trips in Devon and Somerset each season. Summer is peak time around Exmoor and on the streams of the Westcountry Rivers Trust.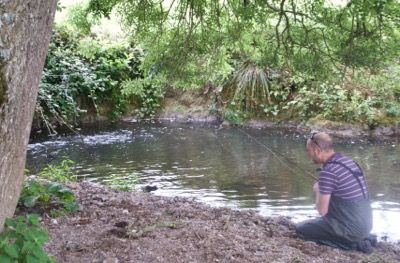 Steve Badger and his son were my latest victims. The really lovely part of it was that they wanted to fish a wild stream, branches and all. It can be a real challenge even for the experienced, with low, bushy water and shy fish to deal with. But they quickly got the hang of making short deliveries and sneaking unobtrusively into tight spots. Side and catapult casts were the order of the day, often on hands and knees. It was challenging to say the least, but caught two fish, a small trout and a grayling. Result!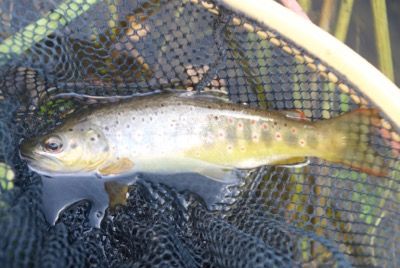 We fished the Westons stretch (see
www.westcountryangling.com
), a lovely bit of water for just £6 a day. The farmer was also brilliantly friendly and I think he was chuffed to see a youngster fishing on his land. We also made a new friend: Ruby, an ancient looking dog who is anybody's best friend for a pat on the head, who still enjoys helping to bring in the cows, albeit with a slight limp: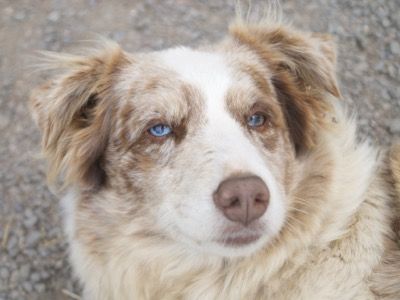 Needless to say, I got a real warm glow from the day, which wasn't just down to the blue skies and baking heat.
Perhaps the biggest change I've seen in angling over the past few seasons has been the sheer number of anglers who enjoy a varied fishing diet, with lots crossing over into fly fishing. Organisations such as the Angling Trust certainly help, and I was delighted to join them at the Game Fair at Ragley Hall. As soon as I spotted this rather funky vehicle, belonging to Sarah from Get Hooked on Fishing and "pimped" by fishing artist Dusto, I knew I was in the right place: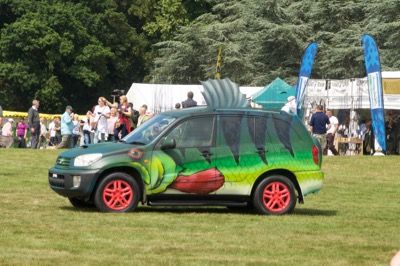 It wasn't the busiest it's ever been, but plenty of guests stopped by and, most importantly of all, stacks of youngsters got their first taste of fishing. The other great thing was the feeling of togetherness of all the angling branches. Everyone from the England Carp team to the Fly Dressers' Guild was out in force- and on an evening social we had just about every approach you can think of on the lake, from lure fishing to specimen, match and fly fishing on the lake. The carp were lean and hungry- and not easy to lure to the surface, although it was great to see one a visiting Scottish fly angler catch his first ever carp (of any description) on the fly.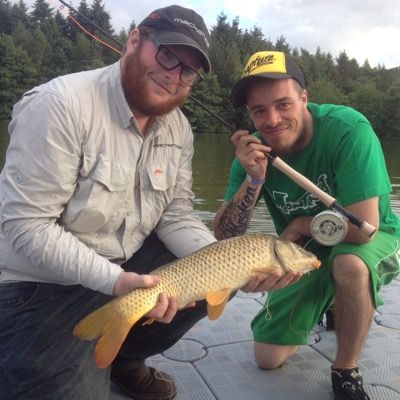 In between doing some fishing talks and demos, I also caught up with some of the anglers really making the sport tick these days. The lure casting pool was a huge hit with the likes of Sam Edmonds and John Cheyne, while I also met "Big Fish Off" champion James Stokoe, before sinking some beers with Dusto and the others. I think he probably earned them more than me having spent the whole of a humid day working on another of his giant masterpieces. I am seriously considering asking him to paint my kayak!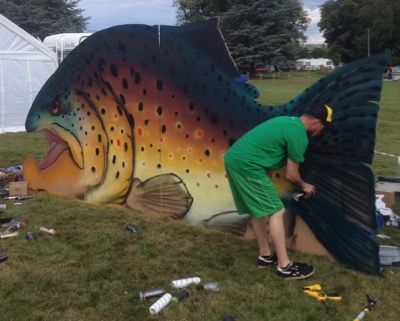 Talking of kayak adventures, I've also been back out to sea to explore some shore marks. The fishing has varied from tough as nails to hectic, with a lot of lessons learned. More to come shortly on the blog at Channel Kayaks (a whole stack of species and venues covered- now live,
CLICK HERE
), including what is surely my biggest ever wrasse. It's a species I've really got to grips with, in no small part due to picking the brains of my lure fishing friends such as Andy Mytton. The same weedless and dropshot presentations also work wonders with real bait too: