Does anyone else suffer from false-dawn syndrome each and every spring? The yo-yo temperatures and random seasons don't half mess with the moods of both fish and anglers at times. And this applies whether you're lure fishing a cove in South Devon, or tackling one of Cornwall's wild fly fishing lakes. Which is why I write this week's blog with some relief after some tricky fishing and hard won catches.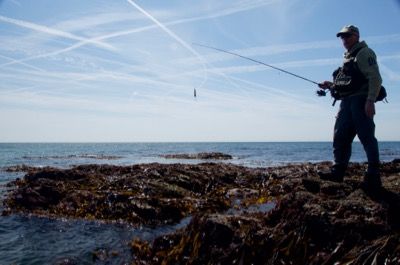 I had promised visiting angler Jim Sutherland a suitably mixed trio of outings, in fact, for what would be an unusual mission for me. The idea was three days of very different predator and fly fishing, adding a different twist to my usual guided fishing trips in Devon and Cornwall. Besides brushing up on casting skills and discovering some new fishing styles, he wanted to fish alongside me to produce an article.
A refreshing change for me, because by and large I do not fish when I guide. Aside from demonstrating the odd technique, I think it's poor form. Equally, as many articles I've appeared in, I can probably count those written
about
me by someone else on the fingers of one hand. As often as not, I tend to cover what others are doing, tending to agree with the saying that there's no telling what can be achieved if you're not fussed about who gets the credit. This way you get a much broader pool of knowledge than your own limited perspective. But this time it did make a nice change not have to do all the running and note-taking!
We started with a spot of lure and fly fishing in the rockier extremities of South Devon. If you can be bothered to walk, there are some stunning secret beaches and coves here. It's especially lovely to return to some of these spots you remember from childhood armed with more "grown up" fly or lure fishing tackle. The only slight hitch was that it had been a couple of years since I'd been to this particular spot, hence we slalomed through poky lanes and, on one occasion, popped into a local village hall where a makeshift polling station had been set up, just to ask for directions.
On this occasion, I intended to start with the lure rod, like Jim, because I desperately wanted a lure-caught wrasse. However, my usually reliable Shimano reel then decided to have a meltdown, with the spool no longer locking in place. Usually I cannot fault these reels, but I guess nothing lasts forever and twelve odd years had taken their toll. A bit embarrassing, to say the least, to be left with a tangle and a bust reel!
It was to be a curious quirk of fate though, because I soon got into the rhythm of casting a sandeel style fly pattern and began getting bites. A small pollack came first, before I wondered if I was seeing things. On a couple of deliveries I thought I had spotted long, silvery shapes chase the fly. And then I had my answer- a garfish took hold! My first garfish on the fly ever in fact (I've often seen them chase, but never got one in). The only slight regret is that I didn't get a better picture- but the sun was right in Jim's face and I decided I wanted to avoid excessive handling and let the thing go.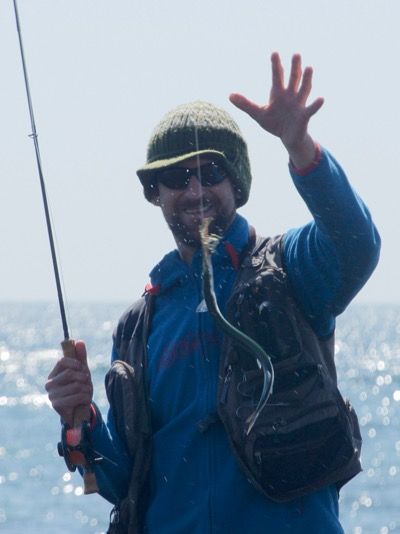 We had a testing, sometimes gruelling day after that. I was certain the bass and pollack would arrive on the rising tide, but they just wouldn't appear. And so eventually, we turned our attention back to the wrasse. In my case, I eventually tore myself away from the fly as Jim let me borrow his spare lure outfit (although I spent the day getting ribbed about "hire charges"). I broke my duck later in the day, but it was Jim who really earned his stripes with an absolute cracker that fought like fury. I'm going to be a party-pooper here and only show my own, more modest effort, because I don't want to steal his thunder for the full write up.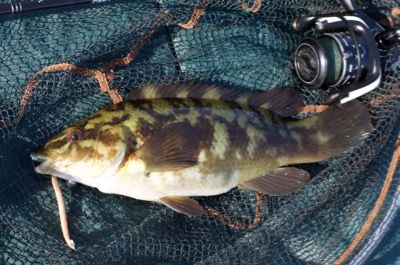 In the process of a really interesting three days we covered miles in the end, tackling Cornwall's Colliford Lake in pursuit of its stickleback-clobbering browns, not to mention a jaunt on the local canals. The latter, I think, really floated Jim's boat. Like me, he is a confirmed sight fishing addict with somewhat itchy feet, which was probably for the best given how many yards there were to cover over three days.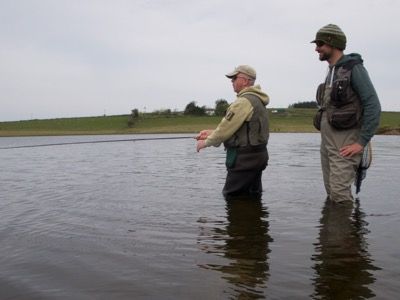 We had action packed hours and slow hours, but it was all interesting fishing. Perhaps the highlight was a foray into shallow waters with the fly. We had seen bream on the verge of spawning, but for the first time in the year I also spotted numbers of roach and hybrids sunbathing. They were willing to rise too, although they wanted quite small flies- larger bugs were flatly ignored, while a size 16 to 18 spider was sucked in gingerly by several nice samples.
We also played with the pike and perch- in my case, using my own
dropshot minnow flies
(which you can now find on my site). The perch were tricky, but in the clear margins it was possible to sight fish and use fluorocarbon rather than wire, to earn more takes. A little split shot or two and you can work these beautifully on the fly rod- but they'd also cast on a light lure set up.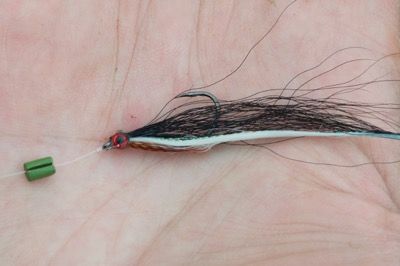 I'm always torn with this kind of fishing. I'm reluctant not to use wire, but with fluorocarbon you tend to get more takes from perch, while you'll also land the typically small pike that take a shine to the minnow. It almost goes without saying that you should also debarb the fly/lure so that if there is a mishap the thing will come out easily once the tension is gone.
When it comes to "prospecting" with the fly and areas where you can't spot pike and take evasive action however, the only option is a wire trace. This was just one of several fish we shared on small lures and bigger pike flies:
Again, I'm reluctant to reveal all because no doubt Jim will produce a cracking write up and I have no desire to steal his thunder. Nor is this anything new, because it's fair to say that there's always a lot more between and behind the lines with what I write here. I just cannot include everything. Don't get me wrong, I love the blog as a kind of quick-fire diary. But I cannot give away everything for free and nor would you want me to- unless you're keen on the idea of a fishing landscape almost devoid of "real" books or magazines.
I've been as critical as anyone in the past about the fishing magazines, but it is as vital as it has ever been to support the print media. To give you some inside perspective from my own world, the balance of my income from print writing to digital content has swung totally in favour of the latter in the past three years. Part of this is because I write blogs for hotels and tourism these days. But in fishing the same is steadily happening. And while we all have to embrace change, we could be left with a world devoid of printed words if we're not careful, which would be a huge shame. Remove the rewards and standards will drop with the world of advertising holding all the ace cards, it's as simple as that.
It has been almost an ironic twist, therefore, that having written for the fishing press for over a decade now, I finally have a weekly column in the Angling Times! Yes, I know I've been outspoken once or twice before, but to their credit they have freshened things up with the new look magazine and even found space for an oddball like me.
The Far Bank
looks set to be a lot of fun. My remit is a sideways glance at the funnier and stranger aspects of the sport. This week's topic, for example, is all about the lure of dicey spots and dodgy casts.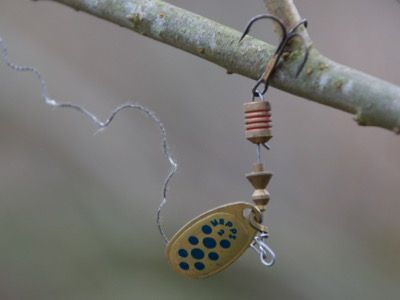 I have lots more hot, strange and thorny topics to come in the months ahead, but if there's anything that amuses, perplexes or bothers you that you would like me to get my teeth into, do get in touch with me or
drop the Angling Times a line
!