Although my trips to Poland are not strictly fishing affairs, I'm always keen to test the waters of Silesia, where my other half's family live. It isn't always easy to balance inlaws and angling, but there is some fascinating fishing in this area of Southern Poland, with both lowland "coarse" rivers and lakes, along with some lofty and very beautiful fly fishing destinations.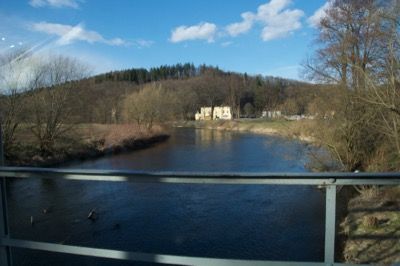 The journey to Poland was an interesting one, crammed with three other voyagers into the confines of a small Fiat. Not exactly the vehicle of choice for the tall guy, but we survived and had some fun along the way, passing through no fewer than four countries on the 24 hour journey from England to Poland (France, Belgium, Holland and Germany).
I won't subject you to a full report on Easter in Poland (something which is taken extremely seriously, from fasting to feasting and Catholic Mass). But suffice to say it always brings a smile to my face after the experience I had in 2014, which spawned one of the more bizarre fishing stories I've ever written (you could always grab a copy of
Crooked Lines
, for the complete yarn, which involves a rather miraculous resurrection that might confirm any brother of the angle's faith).
The real adventure began after the Easter weekend, however, as we met with Polish fly fishing enthusiast Arek Kubale and his good lady Agneiszka for an adventure in the Silesian mountains. Admittedly, it would be a fleeting and opportunistic visit rather than a meticulously planned fishing session. But I was looking forward immensely to trying the River Bobr (or "Beaver River"), considered one of the finest places to go fly fishing for trout and grayling in Poland.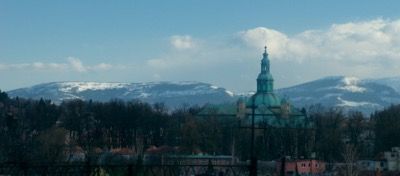 As I've explained before on this blog and in my writing, I believe there are a heck of a lot of misconceptions about fishing in Poland. Favourites include "they eat everything" quickly followed by "fishing in Poland must be terrible." On the contrary, in fishing terms I believe Poland is a sleeping giant. There is a heck of a lot of water, space and variety here. Furthermore, it is ridiculously cheap in comparison to so many other EU fishing destinations (a pint of beer is about £1.40, a stay in a quality fishing lodge well under £20 a night).
There is a huge diversity of fishing and slowly but steadily the country is getting its act together. Like many other fisheries, the Bobr is now strictly catch and release fishing, for example, and better protected than ever thanks to Poland's younger generation of predominantly catch and release fly fishers.
The journey itself was both beautiful and slightly jaded. Poland is a country where you'll see a line of ramshackle sheds and a faux-Greek mansion in the same road. Where one guy owns a BMW and the next has a clapped out old banger and a bottle of moonshine.
And along with big inequality come the other issues. Arek and Aga pointed out one or two unfortunate ladies they refer to as "mushroom pickers" to more sensitive guests (in reality, rural based "women of ill repute" from the Ukraine and other desperately poor nations). It must then be a battle to keep a straight face as other inevitable comments follow ("she looks rather underdressed for the season...").
We then had the delight of stopping in the amazing mountain city of Jelenia Gora ("Deer Mountain" in Polish) to stock up on supplies and enjoy local delicacies, including fabulous local doughnuts and some of the best Chinese food I've ever eaten at the "Shang Hai" restaurant. One of the joys of being a Brit in Poland is that you can enjoy the best of everything and still spend a heck of a lot less than you would at home. Unsurprisingly I also sampled several delicious Polish craft beers.
Unlike beer brewing, angling Tourism isn't hugely developed here just yet. I was in stitches, in fact, at some of Arek's tales of early fishing businesses trying to gain a foothold. One local guide clearly illustrated the dangers of Google Translate by using it as the sole means to reach English speakers on his site, only to be referred to as a certain "Mr Bastard" offering trips on the "Proteins River". Hmmm... sounds both offensive and nutritious!
I was still chuckling on the water, asking my host whether the trout on the "Protein River" were as fast growing as the name suggested. I wasn't chuckling for too long once immersed in the very cold waters of the River Bobr, however. Spring arrives quite late here and it was cold, with currents that threatened to knock me off balance as I searched near bank lies with a six weight streamer outfit borrowed from my host. I couldn't buy a bite, sadly, although the ice cool waters were perfect for cooling down a couple of ales that went down a treat with the juicy, smoky Polish sausages we barbequed. If there was a sausage World Cup, Poland would be Germany or Brazil.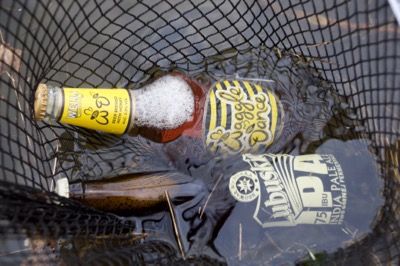 With only an hour of light left to use, we then went to a huge dam and fished near the
Tartak Fly Fishing Lodge
. A great looking place this, and with the river cleaner than it has been in some time, not to mention well-policed catch and release rules, this is a fly and lure only fishery with big potential.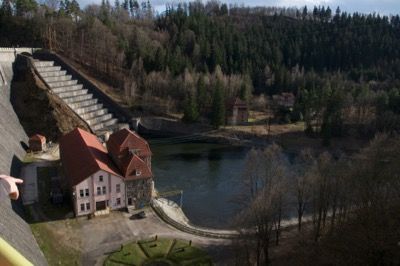 My timing was fairly terrible though, as I simply never received that tell tale whack on the streamer. Heck, the lesson here is that you cannot always combine a social trip with fishing and hope the fish will cooperate for you in the few hours you find to have a try. Just because I do this for a living, it doesn't grant me any God-given right to turn up anywhere and catch. The fish don't give a damn and on this occasion my name may as well have been Mr Bastard, with a permit to fish the Protein River.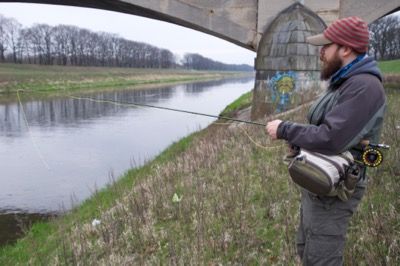 Ironically, my only fish of the trip came from the briefest of sessions fishing on a flowing urban canal in Wroclaw. Last time I visited, this channel was totally dry and undergoing maintenance. It seemed bizarre to revisit and discover quite an inviting channel, with roach, chub, perch and even the odd giant catfish present! A small chub took pity on us in the end, gulping down a Goddard Caddis, and I'm not sure I've ever been so happy and relieved to catch such a modest fish.
The rest of the trip is hazy, having gained about half a stone in cured meats and vodka. The Poles are the best of hosts, but I am seriously considering becoming a vegetarian tee-totaller.