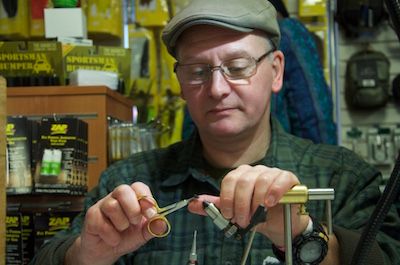 Fishing has often been described as a solitary sport. An inward looking one, even. Which is why the big fishing events such as the British Fly Fair International are so refreshing in turning this idea on its head. Having attended for six years or so on the trot, I can only describe it as a family affair. And in simple terms, the greatest gathering of anglers, fly tyers, guides and specialist fly fishing shops and organisations in the UK. And the lovely thing about attending each year is that you get to know so many ruddy brilliant and creative people.
So where do I start? As good a place as any would be the "Fly Tyers' Row". The men and women you meet here are the heartbeat of the event, and the reason it's almost impossible not to leave the show with new ideas buzzing around your brain. And at the BFFI you get everything from classic salmon flies to saltwater specials. Branches once on the edge of the sport also start to become the mainstream, which is great to see. To take just one example, the quality of pike and predator flies gets better each year, as evidenced by Martin Smith:
As for the smallest flies in the show, that prize has to go to Roger Salomonsson. These cased midges were truly minute flies, tied right down to size 26 and smaller! To some it might seem an unnecessary obsession, but those who have ever struggled with fussy trout eating tiny insects will know the value of having some real tiddlers in your collection. Lovely work: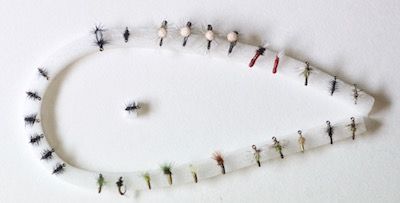 It was also great to meet up with the Turrall team and watch Gary Pearson at the vice. He has a really keen eye for a stillwater pattern, with beautifully refined nymphs and lures. There'll be more on the way on the
Turrall Flies blog
too; the latest entry features saltwater fly fishing tips, but Gary's top flies will also feature very soon to set you in good stead for the new stillwater trout season: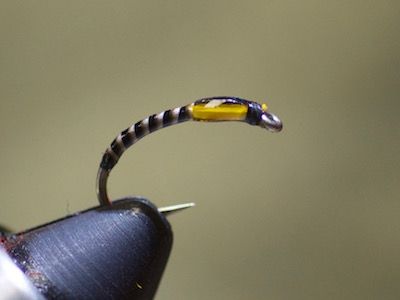 It was a nice problem to have, but the show was so busy I couldn't often leave my stand. Which is probably just as well because I could spend a fortune on the latest materials, tackle and fly tying gubbins. I travel up with John Horsfall, who tries to spend money, while I try to keep it. Which can be harder than you thought, with all the treasures on display.
David Miller's work always catches my eye. I've been a fan for years, and was thrilled to have his artwork feature on the cover of
Tangles With Pike
. Others of you might have seen his brilliant set of British stamps, picturing threatened and sustainable sea fish. For more David Miller fish art, do
take a look at his official site HERE
.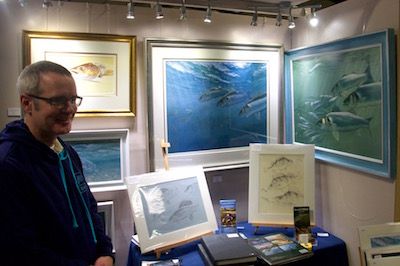 As for the materials and suppliers, I just couldn't get to all of it. But you can literally find almost anything at the fair. Fly tying, just like fishing as a whole, is becoming less sniffy and more open. I was especially heartened to chat to plenty of anglers who now target coarse fish, not to mention a healthy number of younger anglers and ladies at the show, to give the old boys a run for their money! Because the truth of it is that there is space for every style and every one of us, from young to old, traditional feathers to space age materials. This is not an off-the-peg sport with fixed rules, which is exactly why it attracts folks with character and creativity in spades; you can tie and fish exactly as you like and little is now out of bounds. The only certainty is that there will be even more surprises next year.