Strange and often grim weather has been the challenge of recent fishing. Sure, you can stay in and just look out of the window with dread when the winds hit home and rivers rise. But quite often, braving rough conditions seems to result in good fishing.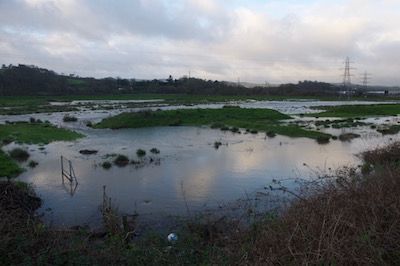 To be brutally honest, I think I've got it wrong on quite a few days this season. I've chickened out in the gales and sat it out with baits. But the weather has been so mild this winter, you get the feeling that the pike are often still more willing to chase than pick up a static bait.
On slow pike fishing days, I start to think Exeter Ship Canal should be renamed Exeter Shit Canal. The rumours start to spread, about cormorants and poachers and tackle shy pike. I fished for two blanks on the trot with bait, before I got restless and tried a spot of fly fishing.
The weather looked absolutely foul that morning, as I hit the water I for first light. I could just about make the fly out as it returned to my feet. I snuck into a cramped little spot and tried the margin, just a few yards along the bank. Even the margins on these ship canals can be quite deep, so it's important to let the fly sink and not retrieve too fast.
On this occasion, I tried a nine-weight set up and the monstrous pink fly my mate Dave West Beale calls The Gay Assassin. I've said it before, but pink is so underrated for pike and predator flies. It really stands out in almost any conditions. In this case I also add an obscene dose of flash too, with a generous pinch of UV tinsel such as Multiflash:
Encouraged by reasonable clarity, I had only made a couple of casts when something whacked the fly. A rush and then gone. Perhaps it hadn't felt the hook or had some sort of prejudice against pink though, because the next take was even more savage.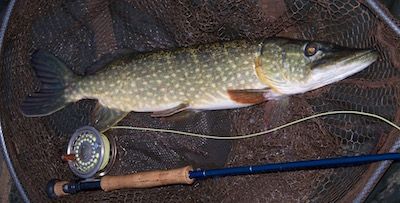 Four or five pounds of lean, fit pike. And so it continued for about an hour, with four other, similar sized and smaller jacks providing plenty of hits. Pete Wilkins also joined me, putting a flatwing pike streamer through the margins and getting followed by the best we saw on the day, of perhaps seven or eight pounds, that watched with a beady eye but just wouldn't open wide.
When the weather got really foul, Pete's camper van also came in very handy to drink coffee, have a catch up and and discuss Exeter's FA Cup tie with Liverpool. I think you could survive the apocalypse in this vehicle, which also provides an ideal den for Rocky, a giant, hairy and delightfully dopey Alsatian.
I've spent too many weeks fishing solo, if at all, of late though. Writing for a living can do that to you. So it was also pleasure to speak to the Somerset Pike Anglers' Club lads at their January meeting and catch up with so many familiar faces. That said, I had spent Monday morning feeling a bit like a pike myself, after a hospital procedure involving a camera on a long tube and my throat. They were sporting enough to release me afterwards, but it wasn't pleasant.
Among other topics were my use of single hooks for pike, whether it comes to fly, lure or bait fishing these days. The deadbait rig has been working a treat in fact, ideally with nice soft baits such as sardine. A lot of the drains and canals in both Devon and Somerset are muddy at present, so I do also tend to groundbait. Yes, it is a little extra bother, but I think it's worthwhile. Rather than just getting a quick run, you can almost build the swim. This is especially worthwhile where you find spots with a lot of small fish topping, and you fancy there might be several pike. I use nothing fancy- just brown crumb and chopped fish. Works for me anyway; this was the best of three fish, at just over sixteen pounds.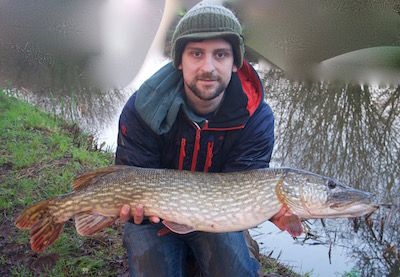 Of course, pike aren't the only fish to target at this time of the year. Trout fishing continues right through the roughest weeks of winter. For any of you who enjoy fly fishing, my recent Turrall blogs are worth a look:
www.turrall.com/blog/
Whatever you fish for in 2016, I wish you crooked lines and happy hunting.