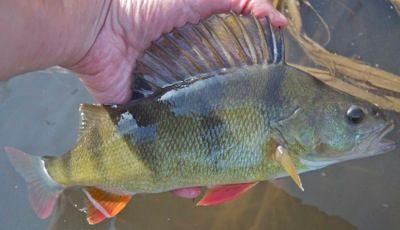 Not for the first time, I have stepped over a line or two this past week, spilling a few maggots in the process. The feedback and hit count on my last blog post "
Fishing Media in Crisis
?" was quite a surprise. I'm glad most of you enjoyed the piece anyway. My only slight annoyance is that it takes something more incendiary and, to some, offensive in order for people to actually get reading and talking about some home truths.
But for now I'm going to take cover, leave that particular bundle of ragworms in the fridge and hope my other half doesn't notice the smell. Because there are casts to make and other things to get on with.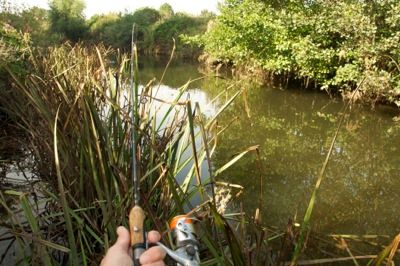 Lately I've been rediscovering my love of lure fishing on rivers and canals, but with some pretty dodgy spots involved. The banks of so many of my local club waters are in a rough old state these days, decorated with Himalayan Balsam, nettles and, in more than one case, the detritus of takeaways and supermarkets.
But if you're prepared to be brave, make a fall or two and get stuck in, there is some fantastic water to explore. Perhaps the best tip I could give any angler frustrated by a lack of underfished water is to get yourself a pair of waders. Find the rough bits, get used to the feeling of cold water up to your bollocks and I guarantee you will find water that is seldom ever touched. Like the lovely swim I found down a six foot drop.
Tackle has to reflect the need to travel light and unimpeded through tight spots, so for me it is almost always a straight up choice between lure and fly gear. My latest toy is a seven-foot nothing ultralight lure rod that will cast tiny lures, dropshot rigs or even flies.
I don't really miss bait on these excursions either, because most species can be caught between these methods: pike and perch readily take the lures, while flies will always catch chub and dace. But it is the perch that have really captivated me lately. And autumn waters have been littered with fry, minnows and bleak. When you see this sort of thing you just know you'll locate predators too:
Things are so different once you're actually in the water! Usually we hover several feet above it, but for those who don't wade often I can only describe it as a sensual experience. You can actually feel how strong the current is. You get a much better idea of depths too- and often I'm amazed to discover how what looked like inches of water right by the bank is actually a nice depth of three feet or more.
The other great thing about wading is that you can tease a lure or fly into small gaps that were inaccessible from the bank. I am finding small, soft lures absolutely deadly for the perch. Nor is it rocket science- and for all the dazzling array of lures and Formula one style outfits of the modern lure angler, it can be a devastatingly simple and easy method.
With tiny jigs, I have been using quite slow retrieves but really shaking and twitching the rod. Smaller perch throw themselves at the lures and a light rod makes every one of them good fun. Bonus chub really spice things up too- but tend to like a steadier retrieve higher in the water: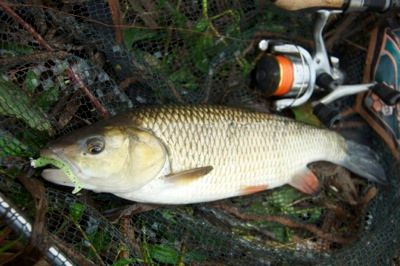 The light tackle approach is really delightful and when you're in the water, the rod really smashes around and a better perch looms up, you think "bloody hell, it's… not as quite as big as I thought."
No matter, I think for any true angler it is virtually impossible not to be happy catching perch. And once they're a pound or more they really fight gamely.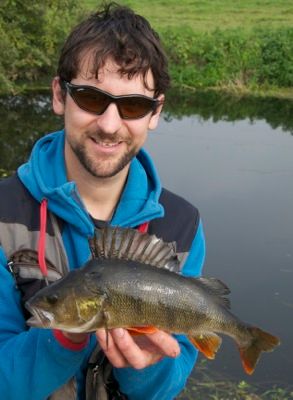 I've also been fishing with my pal Russ Hilton, who is about the most modest, least assuming character you could meet, but a very adaptable and extremely capable angler indeed. We quite often fish different methods and it's fun comparing notes (for the record, his
Tales From the Towpath blog
is always a nice read).
Wobbling is something he does a lot of in the autumn, and it proved as effective as ever for the pike. Those of you who have a copy of
Tangles with Pike
will know how much I rate the method. Perhaps the nicest thing of all is fishing the method in clear water. Quite often the pike will follow but not take, and you then have the fun of watching the fish approach it static, daring to make another twitch. We both stood and watched this one take- interestingly, Russ's bait was lying right in the weed and we saw it casually suck it out. Had we not been watching, the line would barely have moved- a sobering thought for deadbait anglers: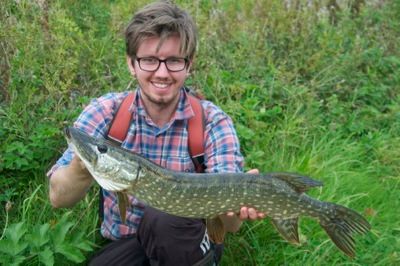 We hopped from drain to river to canal, losing count of the number of jacks and perch we caught, but perhaps the most interesting and bizarre spot of all was a tiny ditch we came across.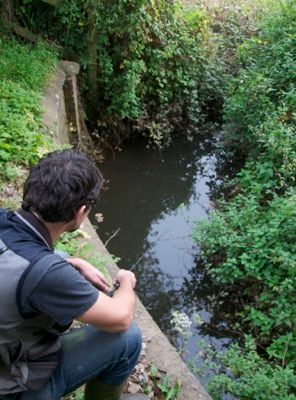 Despite being no more than eighteen inches deep, there were several small chub at the surface and a small lure was immediately whacked by little perch. Even
the General
caught one, that looked suspiciously bigger than mine. Small things entertain small minds I guess.