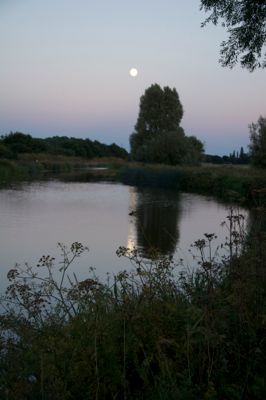 A crazy summer so far, with hardly time to stop for a pint and a fish, or even to do this lousy blog- for which I apologise I've been a bit slack with. But I've been secretly busy. I've enjoyed the company of lots of new anglers with my coaching days and with Turrall at the recent CLA Game Fair. We had an amazing weekend teaching youngsters how to tie flies. Do check out
Turrall Flies on Facebook
and the
current blog
for lots more pictures, news and all good things fly fishing.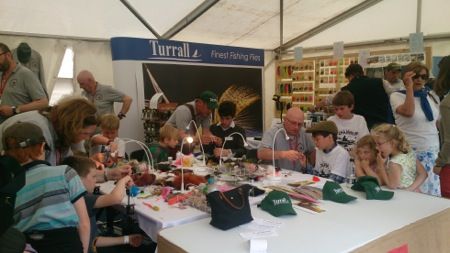 Talking of childish things though, I also recently had a great little adventure with Mark Everad in search of some smaller coarse fish. Some of you will already know of "Fishing with the General", but what you might not know is that Dr Mark first gave me the idea.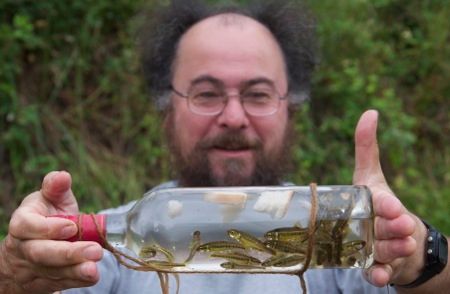 We had this idea of a crazy mission to hop venues and catch many smaller species- but I felt that someone as big and clumsy as me holding a gudgeon or minnow just wouldn't cut it. So I hired the General, for 20p at a car boot sale, and the rest, as they say, is military history.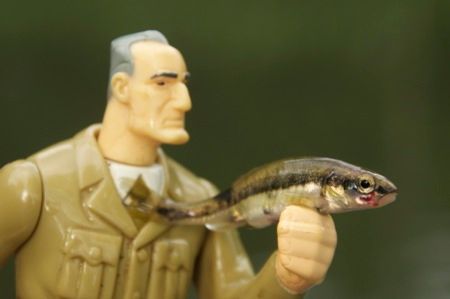 We had a really fine time of it anyway, jumping around small streams, village ponds and finally the very pretty Kennet and Avon Canal where it meets the Somerset Coal Canal. We had lovely ruffe, gudgeon and other species. The Doc also caught a lovely hybrid, while the General fought with Mark's 1960's Dalek and also landed some utter monsters. Proper fun fishing, with bleak, canal dace (a real rarity), perch, bream, eels and roach also joining the party.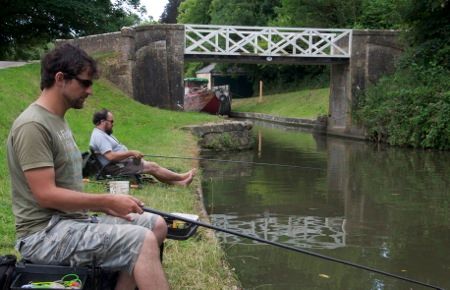 To be honest with you, sometimes I crave some simple bread and butter fishing. And closer to home, the canal is so near me I don't need much of an excuse to go and waste an evening. You know, a cheeky couple of hours that turns into four, perhaps with a pint thrown in. You can't easily fish down at the Double Locks, because the pub get funny, but take a little walk and there are swims that hardly ever get fished.
I also love it because I used to fish here as a kid, watching the bream roll on a summer evening. To my pretty amateurish approach at the time, they seemed like amazing, elusive fish. I caught far more eels than I ever did bream if I'm honest; writhing things that give you a satisfying fight but really bugger up your hook lengths.
This time I had no eels, but still tackled up tough on the pole (6lb rig, size 12 hook and strong hollow elastic), half fancying a tench or bream. I prepped the swim with four decent tangerine sized balls of ground bait laced with caster, chopped worm and a little hemp, and fished over it into some 12 feet of water just into the central track of the canal. Exeter Canal is bloody deep, for those who don't know it.
I had a string of perch first, before roach arrived. I'd already had a couple when the next fish started behaving strangely on the way in, suddenly pulling sharply towards me. I soon saw the reason why- it was panicking at the large pike following it. In a split second I saw a real alligator head lash out and the fish went plunging away into the middle of the canal, elastic absolutely streaming after it.
I never play the prima donna when fishing, preferring to let passers by get on with their cycle or dog walk or whatever. But over the course of about six tense minutes, a small crowd started to loiter, paralysed by the sight of the stretched elastic and wickedly bent pole. There were some proper football crowd noises from a bunch of rowers including the terrible advice to "reel it in" (what, on a pole?). There was an audible "oooohhh!" when the fish came off, but I was almost relieved.
That killed the swim for a bit, predictably. But after a top up with some chopped worm, I really fancied the last hour of light for a bonus fish of some description. A head hooked worm on a twelve led to a better stretch and something nice and weighty.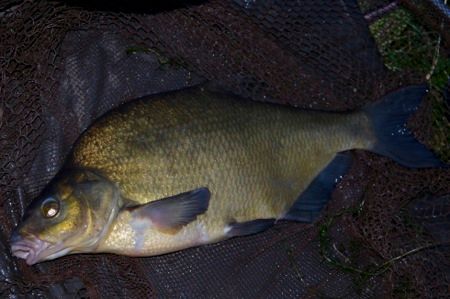 A very nicely proportioned bream of four pounds or so anyway, and that all important bend in the rod. Sadly though, these evenings are not so common at present as I chip away on my next book. It'll be a collection of some wild new stories, along with the very best bits and some secret gems from the past decade or so of words. I also have Sheffield artist Lord Bunn collaborating on the artwork. Here's a sneak preview with an early draft of the cover: