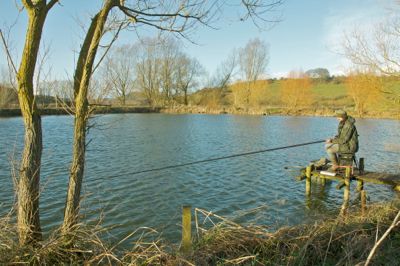 I've spoken before of my love for perch, but this week I have more reason than usual to feel grateful for these fish. In simple terms, they are life savers. They give a focus to that fag end of the late season when everything looks flooded, frozen or bordering on hopeless. The bait is often free too, while even the smallest day ticket lake can yield proper net fillers with a bit of effort.
It's funny how our attitudes shift during the season. After lashings of rain and general punishment on natural waters, the very commercial fisheries you weren't so crazy about last month suddenly seem very tempting. Hence after three blanks on the trot with pike, I was relieved to forget the rivers and join Chris Lambert for a crack at Viaduct fishery, Somerset.
Out of sheer naivety perhaps I expected plain sailing as we loaded up my motor. Closed roads and squeaking windscreen wipers removed this illusion before we ever got near the fishery. I'm no fair weather fisher, but even I wondered what we were letting ourselves in for as the wind started to howl and we crossed high, muddy rivers. I was determined not to blank though and we got ourselves well set up for the day. Besides waterproofs and a giant flask of tea, I watched Chris Lambert assemble a lunch with more calories than a Glasgow chip shop.
The fishery itself was wind and rain hit from the off as we skirted round a match on Carey Lake to set up on Campbells, which is opened for only a limited period each year to perch anglers (it's usually match only). Chris was gunning all out for a big perch, hence prawns would be his main attack. I wanted to simply catch before worrying about any figures, so I dug out my pole and a good supply of worms.
I often find the textbook advice is next to useless when it comes to the iffy late season perching. One thing to note is how changeable the typically shallow commercial lakes are. It can be a real game of hide and seek. A cold or warm spell can totally confound expectations too, but my first port of call with perch in an unfamiliar lake is to establish where the deepest and snaggiest water lies. Most of these pools have a "dam" end, often with a concrete structure or overflow which can be a decent feature in its own right. Snags are more misleading in my experience. They can look great, but without sufficient depth beside them they can be mere eye candy (and sadly this is real life, not "Mr Crabtree Goes Fishing").
The session required quite careful feeding and fishing in the end. I fed three pole lines, one with chopped worm and ground bait in the deepest water, plus two marginal swims fed less often with a mix of chopped prawns and worm. Other than nearly getting blown into the lake, the only excitement was with a handful of skimmers.
The margin swims took somewhere in the region of three hours to signal any interest, but I kept switching over to each in turn every so often, just to see if anything was showing. Meanwhile, Chris was busy catching tench that kept stealing prawns intended for perch. He also tried right by the legs of the nearest platform for a bite or two- an often overlooked area for perch.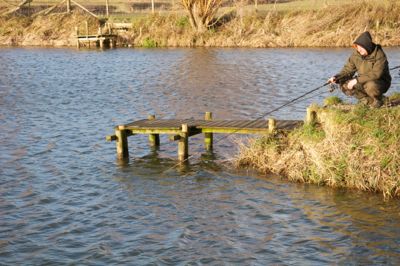 The weather got so horrible at one point that we seriously considered packing up. I had abandoned my box for parts of the session, if only to avoid a drenching by huddling under Mr. Lambert's shelter. As the weather got a bit less nasty though, I finally managed to hook a fish that clearly wasn't a dead-hearted skimmer but something very possibly stripy and spiky.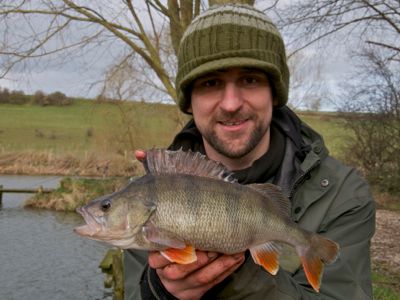 By trickling small helpings of chopped worm into the swim I just about managed to keep a few bites coming, finishing with four perch over the pound mark, the best of which I'd guestimate at a little over a pound and a half (above). Not exactly earth shattering fishing, but a big improvement on nothing and an enjoyable day out.
I never like to get too techy in this blog, but a few questions are still swimming in my head. One is the behaviour of perch on really wild days. Does a strong wind put them off I wonder? It's not the first time I've struggled to get a bigger fish on a blustery day. The only thing I can say for certain is that ugly conditions make every job slightly harder. I'm pining for the spring, as it happens, and being able to swap the tub worms for a box of flies.