There are only so many hours in the week to cram everything in these days, but this last week or so I at least managed to cram a couple of fun outings in. The bigger plans and more critical things are all well and good, but the most enjoyable trips are often those cheeky sessions, squeezed in when you probably should be doing something else. Like a morning on the canal, just because it's not too far away and you have a loaf of bread and fancy a couple of hours.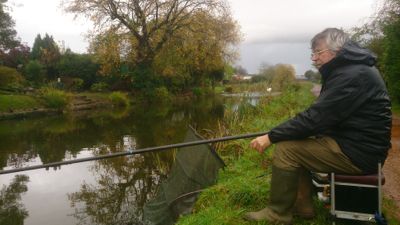 I roped my dad into it this time, as we hit the Tivvy canal earlyish for a crack at some bread punch fishing not far from Tidcombe Bridge. It is here the Tiverton Christmas match usually takes place, although I'm still wondering if I'll make that particular date. If our quick session was anything to go by, and temperatures stay mild though I bet it'll be a belter.
On this occasion we each kicked things off with a ball of finely liquidised bread a little smaller than a golf ball, cupped in for accuracy. Expecting small roach and bits I was on a Preston Chianti float taking just five or so strung out number 10 Stotz and an 18 hook.
I had a little chuckle at my old man's idea of a "small" hookbait, which made a size 12 look small. However, his slightly heavy handed start was almost instantly rewarded with a nice bream of 2-3 pounds.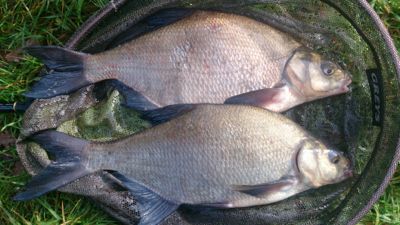 In the next 10 minutes I added one of my own, before claiming six roach in as many bites, making it the sort of start to a session that a match angler dreams about. I tend to save this sort of outrageous fortune for those lazy trips when I didn't even have the foresight to bet a quid on the outcome. Never mind though, it was bloody good fun. The bites just kept coming and there was little discernible slowdown in the whole of our two hours and a bit of fishing. We caught roach after roach, along with the odd skimmer, for a very enjoyable session. About the only step needed to keep bites coming was the introduction of a small ball of bread after the hour mark. I experimented with bigger pieces of punch, but it seemed to make little difference- stacks of roach, with perhaps eight out of ten in the 1oz or less class. This also bodes well for the future of the canal. Suffice to say, a really tidy net of fish was shared and we were still back in time for lunch and the avoidance of "where the hell are they?" style conversations from the womenfolk.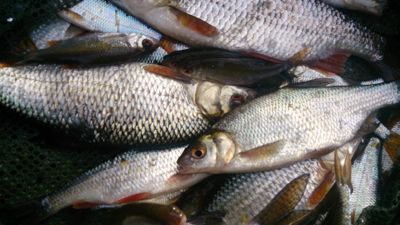 I get the feeling the Christmas contest could be a belter this year with double figures required to take the top spot. Winning is a tall order though, because there are many useful local anglers who are well versed in pole and punch fishing on the cut. It's always a fun day though, and I might just have to fish it and see!
Besides wasting a Saturday morning and a perfectly good loaf of bread in one swoop, another short, sneaky session was also enjoyed with pike on the fly in the company of Pete Wilkins. The idea would have seemed laughable that morning as gales battered my windows. But by two o'clock things had died right off and we hopped off to the cut. Local knowledge really can get you out of jail when the weather is horrible, because you can head for those sections which haven't been totally flooded or churned up by excess rain. Such sections on most canals tend to be those higher up points, rather than the parts where rain water messes everything up.
Perhaps I went too big and ambitious on this occasion because my extra large pike fly, which I fancied for a bigger pike, was flatly ignored while Pete Wilkins cleaned up with three fish on a rather smaller yellow and red pattern. You could tell it was his day from the off, when within three seconds of his very first cast a jack lashed out! Well fished that man:
These lazy, leisurely sessions are the total opposite to the pressure and pitfalls of trying to catch for the camera. There's probably a very good reason you don't see too many TV angling shows that feature zander, given their enigmatic, sometimes frustratingly elusive nature. But my task for the Sky Sports crew was to winkle some of these predators out of the Birmingham and Fazeley Canal.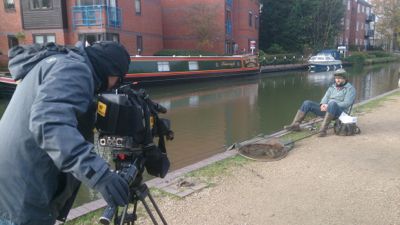 Would I catch or just get very cold and bored trying? It was a testing day in the end, but not without some drama… but why would I want to spoil the plot for you? Watch this space for further show info.