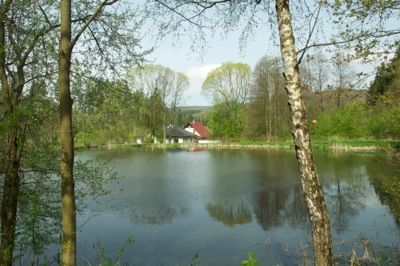 Do British anglers have an accurate picture of their European cousins? It's a question I've often pondered. Our culture is in many ways unique compared to the rest of the world and mostly in a positive way too- we are the most pro catch and release country in Europe. As for the continent, we tend to assume that everyone fishes just for the table. But is it true?
Perhaps I can lay some claim to having knowledge of Europe, beyond our own crowded island. I'm half Swiss and enjoy speaking (or trying to speak!) foreign languages. A trip to Poland with my girlfriend Paulina seemed a great opportunity to see the country and meet its' anglers for myself, and try to do so with an open mind.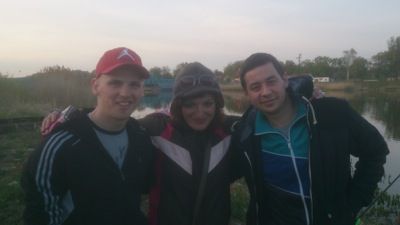 Staying near Wroclaw, by the mighty River Odra, was a perfect location to discover more. Our first encounter with Polish anglers was with the new generation. A chance encounter on a city bus led to us quickly making friends with two student anglers Mateusz and Tomasz (Matt and Tom, if you like!). And what a fine afternoon it turned out to be, sipping a beer and casting out for bream.
Pretty quickly, my knowledge of Polish fishing would grow. These are not crude anglers, for one thing. They used sensitive quiver tip rods and feeder tactics. Nor are they fishing solely for the pot. Unlike the older generation, they are very familiar with catch and release fishing. They're fairly well informed in general as it happens- you actually have to take a test to get your license in Poland.
We caught nothing on this occasion, but the lads were great company. Like most young Poles, they speak English too- and are much closer to their British counterparts than popular myth in fishing circles might suggest.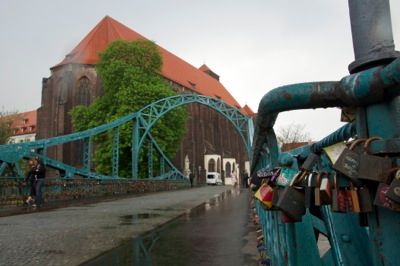 The Odra is a beast of a river. It has most species, including carp, pike, zander and bream to double figures. It also has fantastic history and romance, as you can see from the above picture, on a historic bridge in the city where thousands of couples leave padlocks bearing their names, to symbolise love and commitment. Makes a nice chance from the usual urban graffiti I'm used to anyway.
Our next outing was less romantic however, as the skies opened, it thundered and we got soaked in the company of Paulina's neighbours, fishing again for bream. Still the Polish have a saying along the lines of "When it's rainy as hell, the bream bite well." A cracking fish of 5 pounds or so was caught, and I winced slightly as this was roughly crammed into a small keepnet. Was I one to question though? This was not my country. The weather, however, was just like home: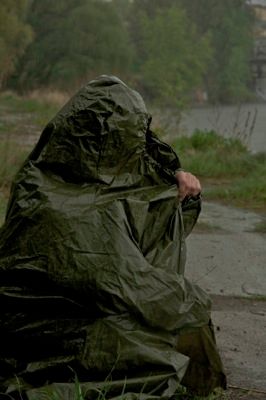 The experience also marked the clear divide between young and old Poland. While young anglers are more enlightened about conservation and open in general to the influence of other cultures and practices, the older generation are more set in their ways. Not altogether surprising, having lived through the bitter times of Communist rule, where life was extremely tough and the local river would have been a vital source of fresh food. It's not true that Polish anglers "eat everything they catch" however. In Poland you must record all that you catch: there is a minimum size for each species and strict limits to what you can keep.
Even so, I was a bit shocked at the treatment of that large bream. Wrestled from the net, it spent a twenty minute car journey flapping about in a bucket with no water! I didn't really want to take the fish, but our host told us to keep it, and the poor beast was dumped onto the lawn at Paulina's folks' house. Amazingly, just as I was wondering whether to put it out of its misery, I saw the tail kicking. Out of pure optimism I then held it in the water of a tiny garden pond. For some time it lay on its side helplessly. I tried holding it upright and was about to give up when much to my amazement, the fish swam away!
I half expected the fish, now Christened "Brian", to be dead the next morning. But on the contrary, it was well revived. In spite of rough handling and a long period out of water it was miraculously ALIVE! A hair-brained plot was hatched to get the fish back to the water.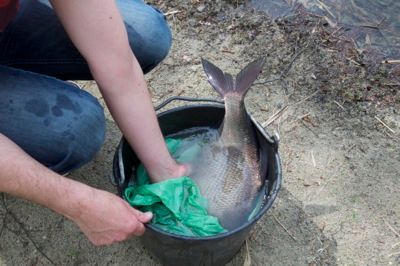 Making sure the neighbours weren't watching, I scooped Brian into a large bucket and balanced this on the handlebars of a bicycle, while Paulina took the dog on her bike. After a ten minute, distinctly wobbly bike ride and I released the fish back to the water. I was still shaking my head as the fish swan back strongly and a miraculous rescue was complete!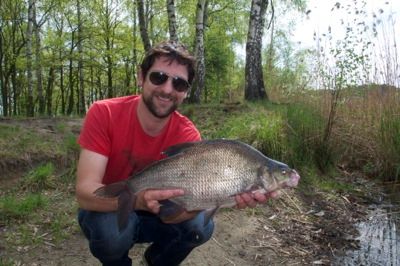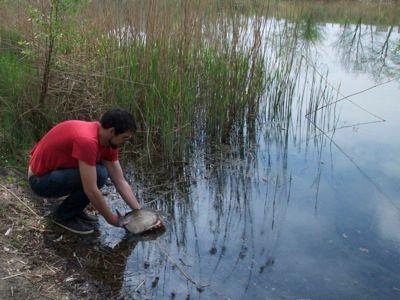 I'm not sure what the bream's captor would have thought of this. My guess is a mixture of confused and offended, but I couldn't let such a cracking fish simply die. Paulina's family played their part too- her father, Richard, approved I think. He keeps carp but refuses to ever kill one, even at Christmas. Anyhow, hen the neighbour came round later and asked "how was the fish" we all smiled sweetly and said "mmm, delicious". You really couldn't make it up. A bit like Jesus in the tale of Easter, our friend Brian had been beaten up, persecuted yet somehow rose from the dead.
Our journey didn't end there however, as we were also to find pretty waters in Sokolowsko, a little mountain town full of history. Poland is such a beautiful country, but sadly run down in places.
The above site is a pretty, semi-abandoned Russian Orthodox church tucked away above some pretty ponds on the outskirts of town. Once upon a time the place was thriving with not just holiday makers, but health centres where visitors came for mountain air. Parts of it now look not so much quiet as haunted, like this beautiful old house:
More discoveries were also made about fishing and anglers here. One old local was especially friendly, explaining how they stocked local lakes here. He was catching roach on bread, using a pole (how appropriate), but had zero interest in eating them. Much like an old school British angler, he was simply relaxing after work with a spot of float fishing.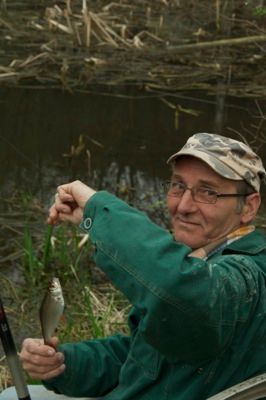 So where does the truth lie in all of this? Someone much smarter than me once summed it up perfectly: "The plain and simple truth is that the truth is rarely plain and never simple." From a UK perspective, the younger generation of Polish anglers are getting the message about catch and release and modern, sustainable practise. I've changed my mind to some extent here: these are intelligent people who move with the times. It's the older generation who need educating that eco-systems are precious, and not just a source of food.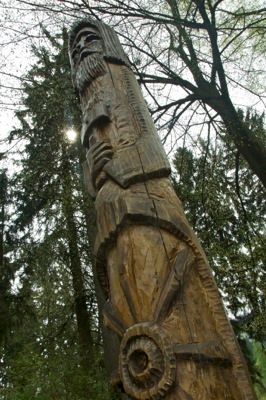 Our journey in the mountains was fascinating. Carved pagan relics like the one above only adding to the mystery and derelict beauty of rural Poland. We also stopped over in the Czech Republic, where I spotted fried carp on the menu. For some reason, I just had to try a little, so alien and unthinkable was the concept to me. Slightly earthy for my taste, but actually quite sweet and palatable- not that I would ever conceive of this in the UK! The pilsner was excellent too, and we had a cracking lunch for two, with beer and a dessert for around ten quid. Travel certainly opens the mind then, but doesn't always empty the wallet.