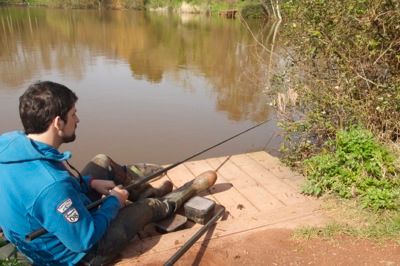 To some extent fishing has become like so much of modern life, tailored to human convenience. Call me old fashioned, but I sometimes think this is a shame. There is a time for everything each year, and both anglers and fish need seasonal changes. They give us welcome variety, while our quarry gets a rest.
Perch fishing, to take just one example, is generally something I do in the winter and then cease as spring proper kicks in. I've really not tried hard enough for perch this winter past, so it was a case of one last crack to try and get one or two more good ones before they think about spawning and I think about something else.
Shillingford used to be a cracking perch venue, but I've found the big ones get rather trickier the last two seasons. No surprise, because angling pressure can have this effect- and it's also true that predators are shorter lived than other fish, hence the fishing can be cyclical and you can find a dip as well as a rise in form each year. I persevered with prawns on a day ticket session, but struggled initially on the middle lake which I once found so easy. Well, I say struggled, but the carp were there in spades. They are a nuisance on perch tackle- one took me the best part of ten minutes to get in.
A switch to a neighbouring pond was just the job though. All the ingredients looked wrong: bright sun, middle of the day, not many bites. Suddenly though, after returning a half pounder, I hooked a much better one on the very next cast. A really plump fish this, and a nice finish at a little over the two pound mark: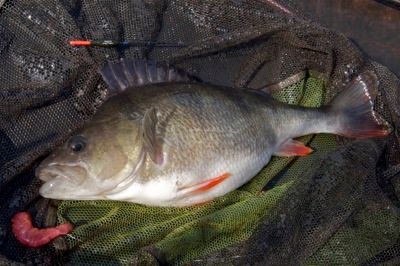 I then also spent a casual hour or so casting flies at the carp. In several places there were fish basking under trees, so I tried a black hopper gently landed in their sight. On four separate occasions I watched a fish mouth the fly, before it was either blown out or I struck too early! I left mildly cursing my lack of composure- but there'll be plenty of chances ahead this summer, and it does go to show that carp will inspect natural flies as well as the usual bait imitations.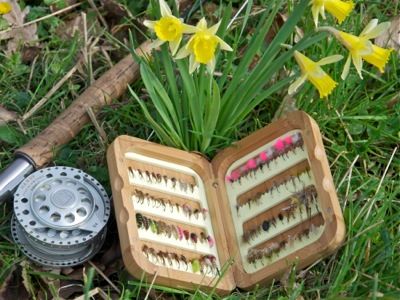 My next short trip was also with a fly rod, but this time in search of trout on a mild spring day. I'd been itching to have a go with a selection of flies I'd been tying over the winter. With rain fed, slightly murkier than expected water however, it looked like slightly larger and brighter flies would be the best solution.
I'm certainly a fan of semi-urban locations (and for anyone keen to sample free fly fishing I'd highly recommend Theo Pike's book "Trout in Dirty Places"). It was great fun to try a little suburban stream with Scott Cooper on this occasion- a keen all round angler I'd met before at Anglers Paradise. We fished some open parkland, but also some real poacher's spots, complete with brambles and less than simple access. Great fun nonetheless: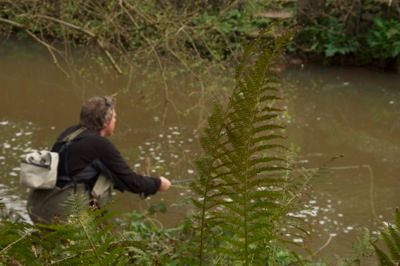 In the end it was the nymphs that won out- fairly large, bright coloured flies in particular. Some of the deeper pools looked delicious, but I got the feeling there was just too much colour in the water. Whenever I fish on rivers that are a little murky with the fly, I always believe your best chance is to find shallower runs, where the trout can at least see your offering. And so it proved. I took three lovely wild browns on a size 14 gold bead caddis nymph, and even added a fourth on dry fly- my first off the surface this season! Great sport considering the conditions. They went well too, these fish, no doubt eager to feed after a grim, flooded winter.