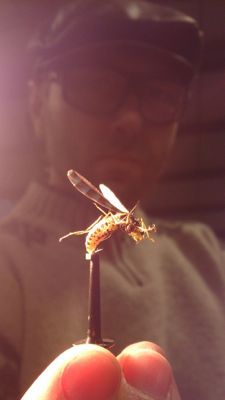 If 2014 might have started in pretty grim, flooded fashion, I'm at least glad to report one or two reasons to be cheerful this week. The BFFI (British Fly Fair) is always an event I come away from feeling more inspired. As usual I had my little stand, my books, flies and the rest. Attendance was definitely up on 2013 and it was a pleasure to meet so many anglers. Whether I make a profit or loss at these events, I'm always totally buoyed by meeting readers who enjoy what I write and keen to have a good discussion. This is more rewarding than any pay cheque I have ever received.
Things were so positive at the show in fact, that I didn't get around as much as I might have. Nevertheless, there was plenty going on in my little corner of the show alone. One thing I love about the event is how friendly people are; you quickly get on with your neighbours and before you know it, you're taking turns to keep watch or go on a quick coffee or beer run after taking requests. I had great neighbouring stand this year with John Fairgrieve (google him!), the modern day equivalent of a taxidermist who makes vivid casts of fish from photos and measurements. There were all kinds of fish on his stand, from salmon to pike. This was my favourite though: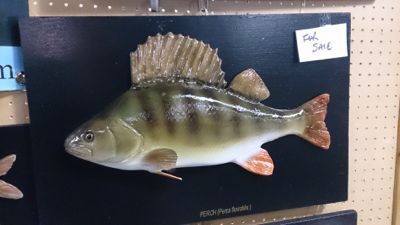 Perhaps that perch put a message in my head because it had been way too long since I'd done any classic perch fishing- or any serious fishing at all, coming to think of it! Also back on the warpath was Chris Lambert, who was also missing his fishing and keen to make up for lost time. The original idea was a quick stroll on the canal, but it quickly materialised into most of a weekend.
The Grand Western was tough work, but as beautiful as always. The first hunt was not for pike, but simply clear accessible water. Tyrone Norah also joined us through some big puddles in the country lanes- some of which seemed to reach quite high up on the side of his little car! Nevertheless, we made it through and enjoyed a laid back session. I always like the accidental photos from days on the bank- and this one captures the bond between Chris and his faithful hound Pep really nicely. When not picking fights with dogs about six times his size, Pep can be observed watching the water with an excitement he can't quite contain:
It was great just to be out, even though the fishing was something of a slog. Chris and Ty skipped between small jigs and drop shotting, but even this was hard work on the day. We managed just four jacks all afternoon. A fly fished fairly slowly proved just the tonic in fact. The best fly on the day was my own "Tango". Loud definitely seemed the way to go.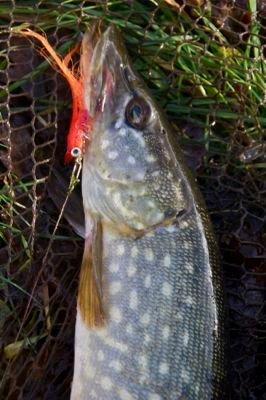 If that was just a quick cast, we decided to do a proper day at Stafford Moor on the Sunday. With my kit rather disorderly, it was a case of an early start and scrabbling around in the garage to summon what was required. As it turned out I needn't have worried though- it was one of those rare, sunny days out where everything just seems to fall into place.
That said, the perch fishers were out in force and the fishing wasn't especially easy. We tried prawns and small live baits to no avail most of the day, although it was fun to take turns on the pole to pass the time, catching skimmers, roach and rudd.
Ultimately, our winning strategy came from every-helpful fishery boss Andy Seery though, who suggested we have a crack at Pines or Woodpecker lake just after the end of Sunday's match. It sounded ideal- and from experience I know that pike fishing too can be excellent at the end of a match. All those groggy fish, along with free bait dumped in? Just has to be a good time for perch. And so it proved.
Just as the light started to dip, Chris had an absolute belter at just an ounce shy of three pounds! This was quickly followed by another just a little smaller. With conditions looking perfect suddenly, I ditched my worm rig and opted to pole fish a small live bait. Earlier on I'd caught some tiny roach in the landing net, and using the pole I lip hooked one of these and lowered it right under a fishing platform. After a few minutes of loose feeding pinkies, the float surged under and I struck into a good fish.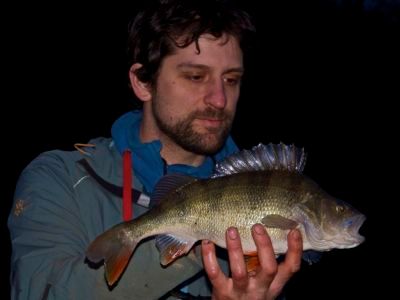 Fish like these are sensational fun on the pole and it was a wonderful battle. At 2lbs 6oz it was the best perch I've caught in a little while, and a great way to rekindle the fire.