How do you turn fishing into an even less predictable sport? The simplest way I know is to throw a camera into the mix. Articles are easy in one sense because you can combine the best parts from several sessions, whether successful or not. We all "edit" our fishing in our minds- remembering the best bits and fast forwarding the parts when nothing worked. When you have a matter of half a day, it's catch or bust. You have to pack your message into a tight time frame and still deliver. And fish don't read scripts. But in one sense I love the pressure. It's like fishing a match- every bite becomes important.
As part of a new little film project, I've been taking a look at different waters starting with the Basingstoke Canal, with Steve Partner behind the lens. And what a pretty canal this is- absolutely stuffed with roach and perch to offer bite a chuck pole fishing. The only conspicuous absence were the bream- although a detour on another stretch led to some classic tench fishing on camera, with fewer fish but of a lovely stamp. I also encountered some less welcome bonuses in the form of huge, horrible crayfish. We're so lucky in Devon not to have these foul, invasive critters lurking everywhere. I'm not the most squeamish when it comes to living things, but these buggers gave me the jitters. Euughhh!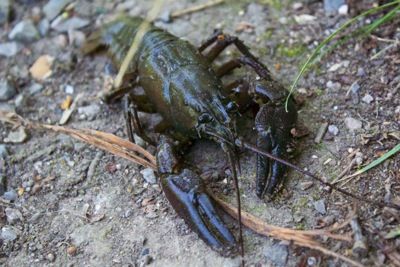 Slightly conscious that summer is steadily running out, I've also been back at the carp. It was my Dad who had the slightly crackpot idea of trying small potatoes to try for a decent fish or two, and finally I took him up on the idea. Perhaps it wasn't such a leap after all- before the days of boilies, the par-boiled spud ruled supreme as the king of selective carp baits. At the very least I fancied they would be selective. It has to be a half decent fish to wrap its lips around a small potato, and back in the 70's and 80's Garnett senior used to catch bream as well as carp on them, once losing a giant fish on a big Swiss lake that took a spud and proceeded to remove line at a frightening rate.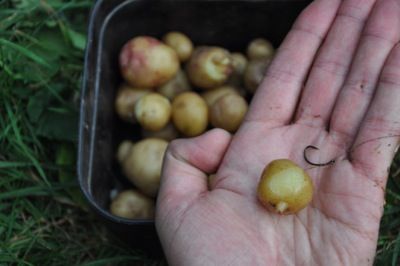 We had to wait into evening to get our first runs on the spuds, a little cloud cover helping to get the fish down after a sunny afternoon. It would have felt plain wrong to bolt rig using this ultra traditional bait, so instead we freelined them- and if nothing else a small King Edward casts well! They're also protein rich. As the light began to dip we had that first pleasing, steady pull on the indicator and it was fish on. The fish were a decent size for a small pond too, with the old man taking the best of three at twelve and a half pounds- and a lovely looking common carp it was too. Are potatoes about to take over from boilies? There's more chance of Exeter City FC signing Christiano Ronaldo, but hey- the carp still like these less than fashionable baits.