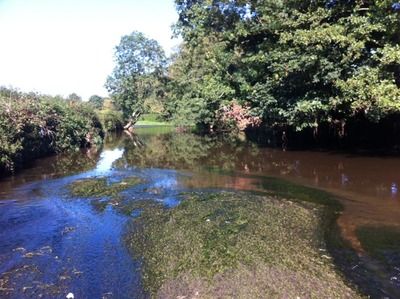 I've never been one for forking out mega bucks for my fishing. It's not any lack of love for stunning private waters, but more lack of funds. You do get the odd perk out of writing about places, but the phrase "there's no such thing as a free lunch" also applies. Just like I'd never want my output to read like a sales pitch for a sponsor, nor should it read like a fishery brochure. And besides, I quite like it when my viewpoint comes from the cheap seats. Where there's muck there's interest. Where there is dirt there is truth. This is why Rimbaud and Baudelaire frequented gutter bars and cemeteries rather than five star restaurants. That, and the fact that they were perpetually wrecked on absinthe.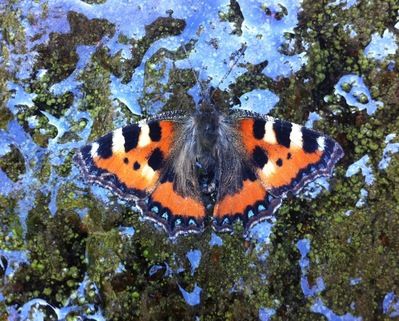 This week has been a tale of two very different river settings. Firstly, you have the free stretch of the Culm. I've never investigated this place properly before, hence it was a bit of an awakening. Sadly as well as butterflies, birds, chub, dace and trout it also has litter and dodgy types; cows and dogs disturbing the water in at regular intervals. Not surprisingly the best fishing came from taking a walk (or should I say a wade) away from the better trodden areas. Like that craggy bit by the M5. You know the one, the place you must have scanned 1000 times from your car and thought "I wonder what's down there?" Well, I gave it a crack: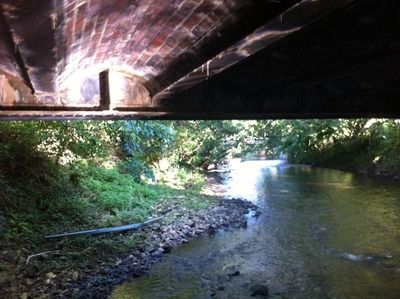 Was the fishing electric? In a word, no. But varied and challenging, yes. I fished a Klinkhamer and hares ear combo to find dace and a couple of sporty trout, as well as losing what I suspect was a half decent chub. The dingy bits were so overgrown I stuggled, but on some of the shallow, sunny runs I got some lovely rises to the dry fly. Beautiful too, are these Culm trout. Sunny gold and vivid. This bit of the Culm might not be Premier League fly fishing then, but hey- it's free.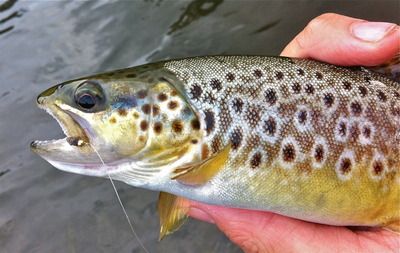 My next outing couldn't have been more different. An invite to spend the day on a quiet -and usually very private- stretch of the Exe through the kindness of a family friend wasn't to be sniffed at. It was a place so beautiful you had to keep reminding yourself that you weren't trespassing. My brother was already frothing at the mouth with the prospect of salmon, but I wanted to make sure I put something in the net first before giving them a cast. Grayling are a particular favourite. They definitely thrive on neglect- and of all the fish I believe they are the most fragile and easily killed by careless anglers. The nice thing about grayling on salmon waters is that you know virtually nobody is fishing for them. I found plenty of lovely, steady paced runs with 2-3 feet of water and rising fish. Most wanted the dry fly: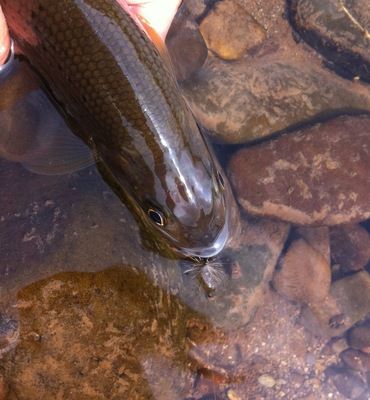 It soon went from good to outstanding, as the rises increased and Ben hooked a salmon further up. The next grayling I hooked was in a different class to the rest, vast in length by comparison. They are one of those fish that really tantalise as they come towards you; I love that moment the dorsal fin is hoisted and for a brief moment the fish is perfectly frozen before you. My brother had the only scales sadly, but it was 17", quite possibly a two pounder. Who cares, figures are for maths teachers and it was exquisite: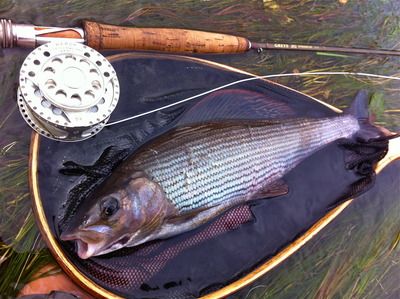 I've written before about the huge influence confidence, or a lack of it, can have on fishing success- and on this occasion you felt anything was possible. Ben had already caught a salmon too, so there was only one way to try and finish the day. I aimed an orange Pot-Bellied Pig into various tempting, boiling spots along a far bank channel. After about cast fifty, I was still hoping and almost tempting fate asked Ben "so do I strike when I feel something?" The answer to that is generally "NO!" -a better answer would be to grit your teeth, give line and try not to die of shock. The thing I was attached to flew downstream at a scary pace before throwing itself into the air. Pure adrenaline. In fact, the next time someone even suggests fishing is boring I'm going to slap them. "It's going to be a decent one," and "it's well hooked I reckon," were comments that only added to the tension. The fight was manic, but under my brother's expert guiding hand I eventually managed to bring it to the net. A first ever salmon for me, on the fly and one of the most nerve shattering battles I've ever had on a fishing rod I'd say. The fish, a male, made a steady recovery before making his way homewards. As for me, I've only just stopped quaking.