After a brief but unsuccessful try for crucians on the fly at Tiverton AA's Little Yeo Fishery on the journey home last week, I decided to return with more conventional tackle. I'd been hoping to spend a morning with my Dad for a while, since we hadn't fished together in ages. Rather than attempt something way too serious for a Sunday morning, we decided to go tiddler bashing and pretend it was 1991 all over again, a time we'd get up early to fish cute little ponds for just about anything that was willing to pull a float under. It's strange, but in the midst of an era when many of us are keen to catch PB's and get deadly serious, I often find the opposite hankering- a desire to feel like a kid again and return to a world where happiness was dropping a bait by some lillies and feeling a crucian carp juddering on the line.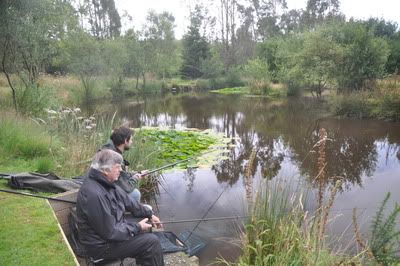 I like fishing with my old man. He still favours a wicker creel over products with names like "specialist accessory system". He knows more about the ingredients of a decent sandwich than modern baits. He might not have taught me how to become a world champion angler, but he definitely taught me to enjoy fishing- a lesson that is the same whether you're three or thirty three. I'm not sure I know anyone else who gets so much fun out of a few hours on the bank- and that is never truer than when the fish are cute and the bites plentiful. It didn't seem to matter what we threw at them and we even snared a few using little pieces of ginger cake. One or two oddities also joined the party, like this golden tench: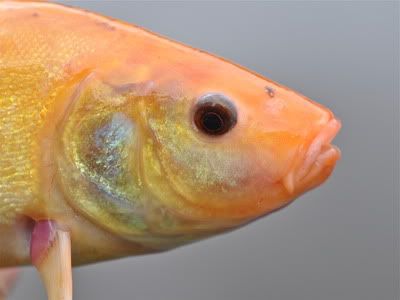 In the end we were supremely lucky with the weather- thunder on the horizon, downpour in Tiverton, but we seemed to be in a little oasis of sunshine. My new pole got a great work out, even if I only needed to use the top 4 all morning, for scores of pretty crucians, along with the odd roach, skimmer and tench. The best bait for hitting bites seemed to be worm section though- perhaps the crucians take this just a little more emphatically? They were like peas in a pod too, not big but very scrappy on light gear. Favourite quote of the day: "They must all be related- it's like Tiverton down there!"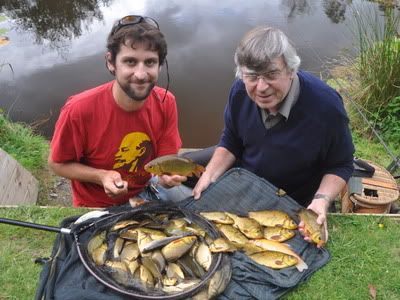 A very welcome day then, because even fishing can become like work rather than play if you're not careful. Other than my first books, the other vital bit of development for me this year is the process of taking my coaching badges. Having guided for a while now, I really wanted to make it official and get the certificate, which is pretty much vital if you want to take kids as well as adults fishing. Even if you've worked for years with youngsters, you simply have to get the right qualification- I believe it will be CRB check number seven if not eight in my professional career!!! On the concluding day of the course, everyone had to perform a live session, which was good fun. One of my giant soft pike came to good use with an exercise on landing and fish care- but perhaps the funniest and most original demo belonged to John Clare, who did a night fishing lesson by blindfolding his student, a hapless Simon Gurney!: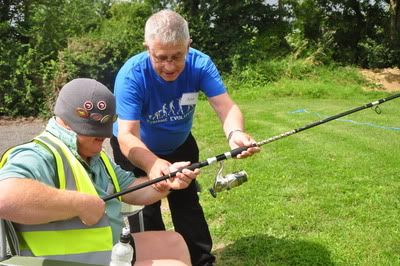 And on a final note, those of you with Sky Sports might want to tune in on Friday evening. After a successful day's filming, I'll be in the studio with Keith Arthur to discuss some of the finer points of catching coarse fish on the fly- and hopefully also get a word in about the new DVD which is available on my own site as well as Amazon now. Really looking forward to this. Here's a skimmer, taken on a little bead head shrimp during a practise session on the Bridgwater to Taunton Canal: