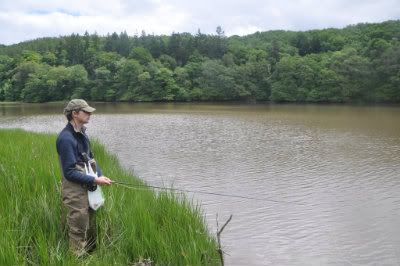 You know how it is when you discuss fishing with folks who don't do it. "I don't think I could wait about for the bites," they say. "You must be so patient." Actually I'm not that patient. Patience? Too long without a sniff and I'm on the verge of becoming a patient- in the confines of some institution. Which is why I could never do what some dedicated souls do and routinely spend days on end for just one or two bites from monster fish. For every longer, slower session I also need that quicker hit. Roach, gudgeon, mackerel- they all count for me. Mullet have been the latest source of frustration. "The British bonefish" is a trendy phrase in some quarters. If you'll pardon my grudge, this is nonsense; sure they're powerful, but bonefish actually eat living things like crabs and fish, as opposed to just farting about, sifting in the mud for things you can't even bloody see. If mullet were like bonefish, Devon would be full of high end tourists. Dawlish Warren would have state of the art Orvis endorsed, glass-bottomed skiffs. You'd get stopped at Topsham or Seaton by travelling yanks with £1000 fly outfits, straining their eyes. "Gee- there goes a British Bonefish. Say, what's he eating?" Perhaps I'll answer that one for you- either a) Nothing, b) sludge or c) microscopic fragments of human despair.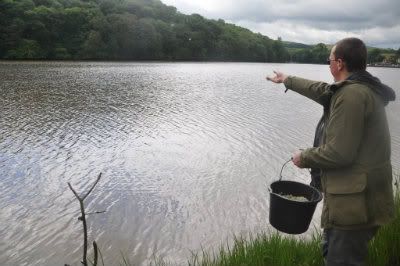 Of course, that never stops you from trying. And so I hit an estuary mark near Totnes, with my older brother and Adam Moxey also living in hope. "British bonefish" (there, I'm doing it now) were everywhere. We tried float, leger and even the fly. "Keep feeding, it'll happen," says older, wiser brother. In the end I tried a feeder and short hook link. I even managed to hook one of the damned things- until it bumped off the hook mid fight. Next time, I'm taking baited spinners- much more reliable. Apart from that lost fish then, the main entertainment came from one or two spectacularly small flounders (sorry, "British Giant Stingray") inadvertently hooked by Mr Moxey. Cute!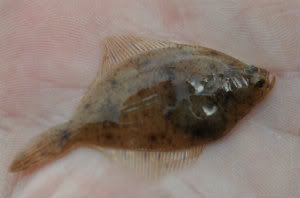 Funny isn't it though, that the moment we find fish easy or plentiful we just as often dismiss them. Take the mackerel- a beautiful, obliging, athletic fish that is roundly dismissed. Usually I believe this is because we use beach casters and feathers. Take a light lure outfit and it's a different story: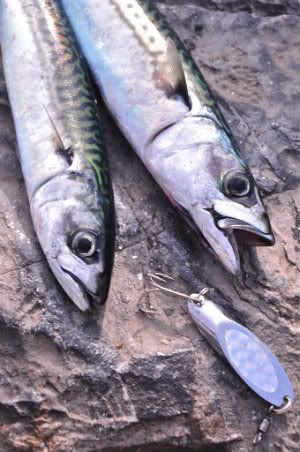 I had a cracking, confidence building morning from Hope's Nose, Torbay. Partly to grab some shots for a forthcoming Sea Angler feature- but also just to remind myself that I can, and do sometimes make a reasonable catch of fish! Whether it was a Dexter Wedge or float fished bait cast out, they hit it. So, an excellent catch of mackerel (sorry, "British Barracuda"). Scarcely any of the other anglers present seemed to speak a word of English, so we just grinned at each other and nodded. Thank you mackerel!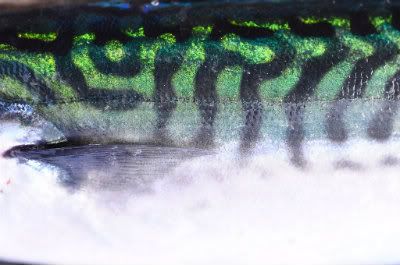 Otherwise, trout have offered some gratification too. I hooked up with Tyrone Norah for some stream fishing and we were met with some awesome, classic mayflies, in spite of windy, drizzly bursts.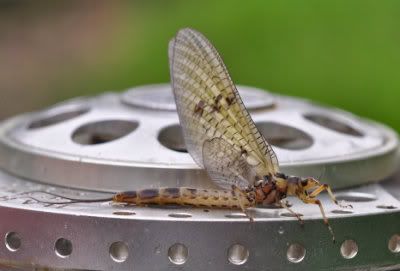 A few trout of the modest but cute bracket followed- and Tyrone picked up the rudiments of casting amazingly well and quickly, even though we'd picked the worst conditions possible for his first crack at it. "British Summer" is almost as laughable as "British bonefish" at present; in fact I'm starting to wonder if both terms were invented as some idiot's idea of a joke. Never mind, we cast in hope. And when the weather does get a bit better you could do worse than chase a trout or two from as little as £5 a day on the "Westcountry Angling Passport" scheme.
In the meantime, I am under a new kind of pressure. A nice kind of pressure- at least if you like tying flies. As well as preparations for the BFFI (British Fly Fair International) where I'll be signing books and talking about "Flyfishing For Coarse Fish", I've been snowed under by requests for flies for coarse fish. This is mighty encouraging- as are reports of others now eagerly casting flies for rudd, perch, pike and the rest for the first time. Another massive thanks to everyone who has bought the book- and I can only hope your own adventures will be a source of great pleasure. I hope to see some of you at the show in person- here are some current flies that have been picking off roach and rudd: fairly diddy little CDC emergers in black, olive or even red for the less than clear water I'm getting used to.