On a list entitled "likely places to catch a sodding big pike", you'd expect small, manmade lakes to be near the bottom. A shame, because the potential is there if you can only find the ones with pike. I've tried several club lakes and day ticket commercials over the past few seasons, with mixed results- but also the odd genuine surprise, like today!
It's true that their usual carp related muddiness does limit water clarity for fly or lure fishing, but there are other advantages. One of these is that rather than sitting there shivering, you can fish a float while waiting for that monster to bite on a second rod. Quite often I plonk a dead bait right alongside the line I'm feeding for smaller species- often enough, this activity will draw predators in. If not, then I can think of worse ways to spend a day than watching a float and picking off roach, skimmers and carp.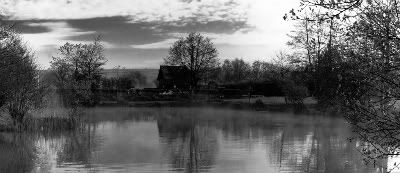 After several mediocre to downright poor sessions on the river and canal around Exeter, it was fun just to be getting bites again and spend an overdue day with my Dad- pike or no pike, we hadn't been fishing together in ages. The lake in question hasn't the biggest head of pike, but they're growing fast- strangely enough, the fishery boss also insisted "no publicity please" -a decision I fully understand, and in some ways refreshing in that it shows that the condition of the fish is the priority rather than just flogging tickets (and no, sorry folks, the lake isn't the pic above- just a nice wintery shot from Frazer McBain).
Anyhow, back to the fishing and the script was uncanny. Two hours in I exclaimed "funny, lots of silver fish, but where are the pike? Not a sniff so fa-" and before I could finish the sentence, the drop off signalled a take. The first pike went just under fifteen pounds, gratifying enough. I would have gone home happy enough, until the next run produced an even more solid presence, a gentle take followed by a bottom hugging fight. With the fish only lightly snared on barbless hooks, it was a case of bundle it into the net as fast as you dare. "Bloody hell" was my old man's verdict. The fish was an absolute barrel- incredibly well fed and thick round the middle. Once the scales were zeroed, she yanked the needle round to very healthy 20lbs 4oz. After several tough recent trips with most of the drama provided by gales and heavy rain, this was a very sweet catch. Thank you pike, and merry bloody Christmas to you all!