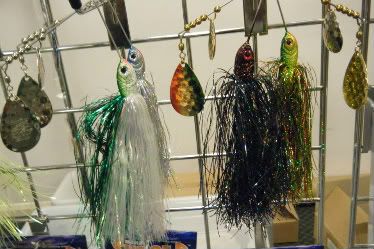 A great place for the pike angler, a bad place to bring a full wallet- such is the annual PAC Convention. This was my first ever trip to the event, a real Alladin's cave of lures, books, artwork, flies, but most of all a meeting place for that singular breed, the pike angler. When not on sales duty I had a grand time looking around and meeting so many great people. Indeed, beyond new things to cram into tackle boxes and bookshelves, it seems an event all about the fun and friendship the sport brings. As well as the wares of established companies like ET Tackle and Fox, it's always great to meet those smaller but highly individual companies that make fishing what it is. Such is the case with Alex Prouse at Zoota Lures, who makes hand poured soft jerkbaits with alluring titles such as Gangsters and Wobbly Bobs. I can't wait to try out a couple of his Wagtails (like the jack version below) in the coming weeks.
Definitely a place to grab those hard to find items then, as well as those hard to grab anglers and the event was like a who's who of pike fishing. I couldn't resist dipping into the kitty for signed copies of work from John Watson and Graham Booth- and also grabbed a brilliantly moody pike print by Karen Sakar to ponder whilst I tie more flies this winter, one of a gallery of great works: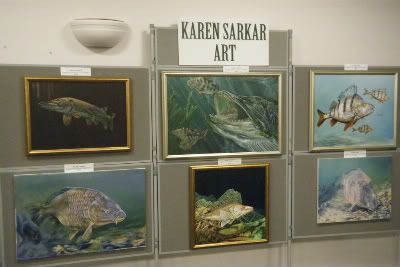 There are too many great things to list here- I had to virtually tie my hands behind my back around all the lures, and some of the more unusual detours such as the sub zero fishing equipment on display from "Esox on Ice" also caught the eye. Keep an eye on my links page at the usual site (www.dgfishing.co.uk) where I hope to add a range of highlights shortly. As for my own stall, it was a case of unexpected success, with the Finnish soft pike quickly selling out! For those who missed them, I hope to get more stock later in the year.
In the midst of a hectic week before I was also pleased to make a successful return to the Somerset Levels. Accompanied by Seb Nowosiad, it was a fun day hopping between the canal, the rivers and the drains. It started with some nice roach and rudd. The fish were quite spooky in the bright conditions, but still catchable on a small buzzer or spider.
Perhaps the best sport of the day however came on a weed choked stretch of water little bigger than a ditch. Seb was first into the action, catching a really classic looking perch just shy of 2lbs. Predictably enough, it fell for his usual choice of lure: a Kopyto Relax shad. I still tease him about staying glued to just one lure type, but when it works this well why switch?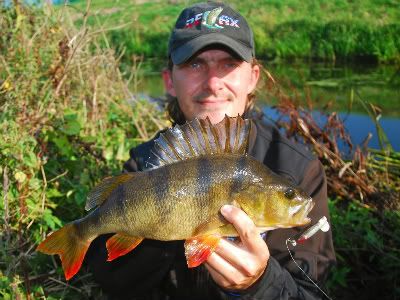 It felt stupidly hot for summer, and after another detour we stopped for a cold pint, the barman taking pity on our tired faces and combined total of £5.33 to provide two pints of ice cold beer. Better refreshed, I quickly ditched the four weight and spent the last part of the day slinging small pike flies about on a heavier outfit, losing a a good fish but managing to get amongst the jacks. For all they lacked in size, each one was happy enough to give the fly a smash and go like the proverbial shit off a shovel.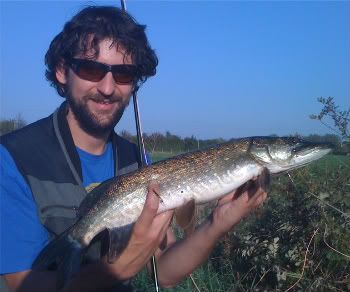 What will the new season bring? I have no idea, but if each day out is as much fun as this we're in for a ball- as well as many, many soggy miles walked.