I always love a quiet hour or two at the vice tying some flies. Lately it has felt more like a week or two of solid work however, with some 60 or more patterns on the go for both a book project and also material for an American magazine feature on "The Perfect 10 British Trout Flies"- a great honour if something of a nightmare narrowing down centuries of great flies into a mere ten classics! So where do we start? Those who have never tied a fly of any kind might take heart from the Black & Peacock- which consists of thread, peacock herl and black hen... and that's it! Bloody good for trout but also useful for coarse fish: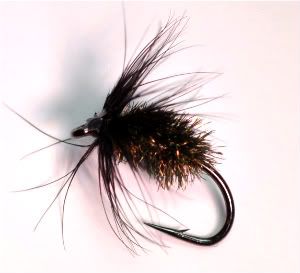 I also have a liking for traditional stalwarts, and for anyone suspicious of passing angling fads, the March Brown has been catching trout for some 500 years!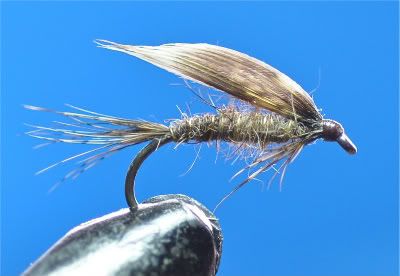 Turning out flies to a publishable standard is always a great challenge. With a quality macro lens (Nikons are used for micro surgery, such is their quality!) every little fault shows up. The messier results fill my fly boxes- only the best go to the publishers! It's a bit like a ruthless modelling audition- you pick and preen the best little buggers to look spot on... and the slightly fat or scruffy ones are asked to leave. After several attempts, here is my version of Richard Walker's classic Hanningfield Lure- it was designed for trout, but Walker found it even deadlier for perch, the jointed effect giving it extra wiggle:
The range of flies and materials is truly vast. This week I've used everything from partridge feathers to strips cut from a Doritos packet in this little buzzer: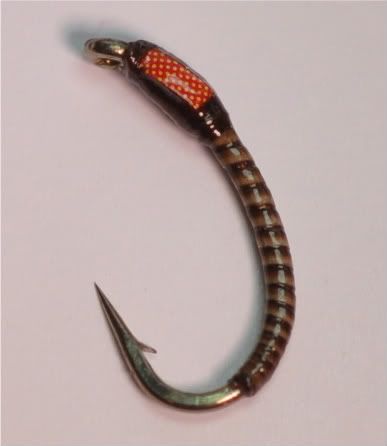 The fussy flies can drive you to madness, which is why I always welcome some meaty predator patterns into the mix. And who says pike flies can't be pretty (before they get bitten, obviously!). Here are a pair of poppers, I paint the bodies by hand: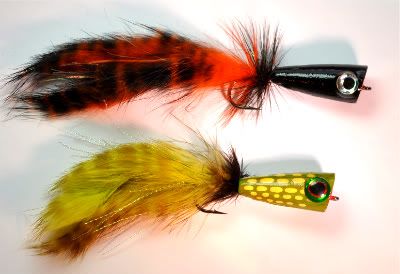 June has thus been a mixed blessing with all the rain I guess- at least you don't feel like you're missing much by spending hours tying up flies when outdoors looks less than appetising. For those less than keen on tying their own flies I am always willing to consider any requirements you may have too. And unlike the shops with their imports I can always produce patterns for less fashonable species- from roach and rudd, to perch and zander.