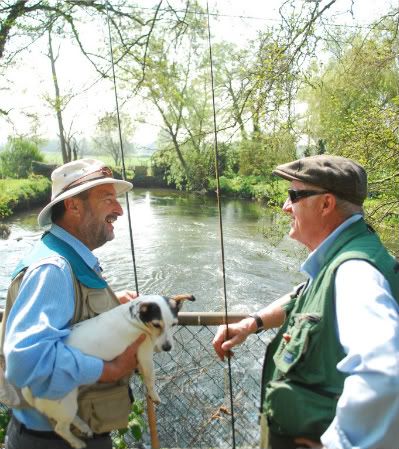 Having already seen the quality of winter coarse fishing on the Test, I was just as excited to make a return visit with Bob James and Chris Tarrant to see this famous river in all its spring glory. A little fishing hut beside one of the rivers many pools is a pleasure in itself. Exclusive or otherwise, water as tasty as this quickly turns grown men into excited kids- and you can be sure many of the best, worst and most optimistic plans are hatched over a brew in these surroundings.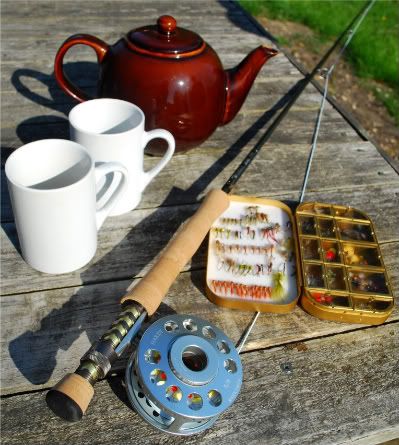 Fishing goes back to the 1300's on the estate where we visited, but the management and use of the water stretches back to the Romans- who can't have failed to make use of the ridiculously clean, rich water which was later also used to produce crisp new bank notes. And the salmon were once so plentiful that the gentry used them to build fences (ok, that last bit is bollocks):
The Test also produces crisp, classic looking fish of course- and in these more enlightened times, coarse fish have been allowed to thrive besides the trout and salmon. Still, there's something quite amusing about watching anglers on the most hallowed trout stream in the world commenting "cor, that looks like a cracking place to trot for roach!" And why not? It all adds variety- not to mention some more affordable fishing later in the year. For the coming months however, it is the trout which provide the obsession.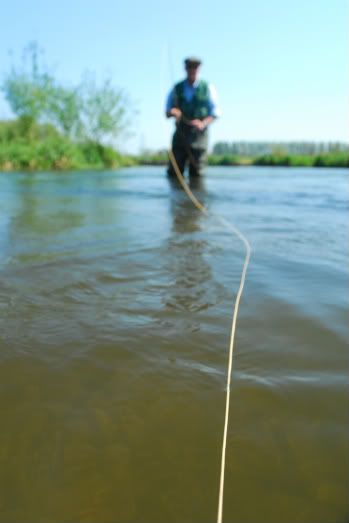 The day was so hot it was better for pictures than fishing however, although James and Tarrant had a few casts in the course of their recce. The air was thick with grannom sedge in places- almost so that the fish had too much choice! Still- the Test is one of those places which is so beautiful it would be difficult not to come away feeling the better for it.