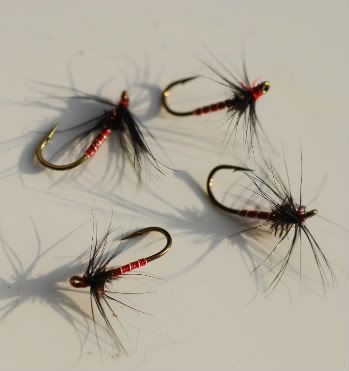 The strange midway point between end of the coarse season and the slow waking up on trout streams is definitely a time to take stock and kill off a few of those jobs you should have done ages ago, from tying flies to fending off paperwork. After a fair old slog in the winter however, I can't wait to do some more light hearted fishing and get lost on a sunny little stream somewhere in the middle of nowhere.
And with cute, small waters in mind I've very much been enjoying American author Ron Swegman's terrific book "Small Fry: The Lure of the Little".
Some opening words sum up his position-
"Catch BIGGER fish!... I have lost count of the number of times I have read this alluring phrase in fishing magazines. But what I am willing and ready to debate is the sport's obsession with sheer, or may I submit mere, size.... The highlights of my own fishing life have always involved a little more finesse and occured almost exclusively along small streams, glacial lakes or farm ponds."
The book cuts an intriguing dash through hidden, intimate waters and a range of smaller but no less fascinating species from bass and bluegills on the fly to fishes more familiar to Brits such as perch and chub.
Truly a writer after my own heart, the book is great fun and in a way I wish we had more reference points such as this in UK writing. The yanks are miles ahead on this score with a real passion for fishing material that stands up as literature. Take a look at Ron's site for some great samples of his work and more info: www.ronpswegman.com
Strangely enough though, I got in touch with Ron initially on the subject of fishing in Central Park, New York- a subject to be featured in next month's "Fish & Tips", which behind the lads mag format boasts some refreshingly different and original content.
Back on small waters, I keep returning to the Tiverton Canal, for little reason other than the fact it is a perfect place to waste a sunny afternoon. It's cracking on a fly rod for silver fish too- although I'm still trying in vain for a tench here. At the risk of becoming an anorak, I'm quite fascinated by canals and my other current reading material is a history of the GW Canal, for the massive charity shop sum of 20p, some way short of the £220 000 cost of the canal- and that was some 200 years ago!
I should also add that the PAC has a friendly lure fishing meet up, 7 30am in Sampford Peverell (car park just after Spars on the right). This should be a lot of fun- non members are also welcome and there is a pub grub buffet. More on this at: http://devonpac.blogspot.com/
In the meantime however, I may sneak back out and see if I can tempt one of those tench. They don't seem to spook easily, but I'm sure their poor eyesight doesn't help them find a fly. It's a big challenge, but I've caught the species before on game tackle and some suitably big and unmissable treats are currently being cooked up at the vise: