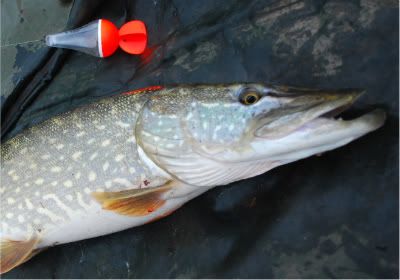 In fishing, there are things we can influence- but also things we have no control over whatsoever. And on that score, this weeks tale is one of foul weather. On a bright, still day the River Wye is like heaven on earth; on the wrong day, purgatory. And while I try to remain ever philosophical about fishing, it's hard not to feel disappointed when you've travelled a hundred and fifty miles with high hopes only to find gale force winds and a river rapidly turning ugly.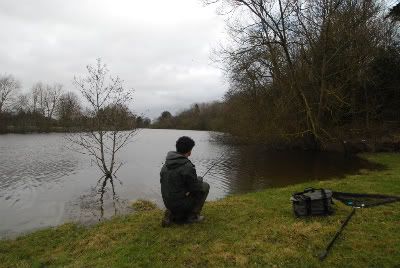 One pike was all I managed near Hereford on the first day and worse was to come, the Wye shooting up some four feet overnight. A rapid change of plan was called for in the shape of the Oxbow Lake at Letton Court (above). If nothing else it was scenic. A beautiful place to drift a float fished bait and at least keep the idea of a hungry pike in mind. No joy sadly, although there is a small irony in the fact that after this long haul trip, I had a decent pike in only two hours fishing just five miles from my front door!
A day of float fishing for roach usually shifts the blues after the tougher task of monster hunting- but Shobrooke lake near Crediton was scarcely less wet or dreary today. The roach here are pretty, well conditioned fish. No big ones, but plenty of sport for Russ Hilton and myself to bread flake and maggots. I also put out another rod with a small boilie, which belted off just before dark. I immediately knew this was either a world record roach... or, you guessed it, a runaway carp. Not exactly planned then, but a strong and immaculately scaled double figure common. Not the biggest, but possibly one of the most beautiful (and undeserved) carp I've ever caught.