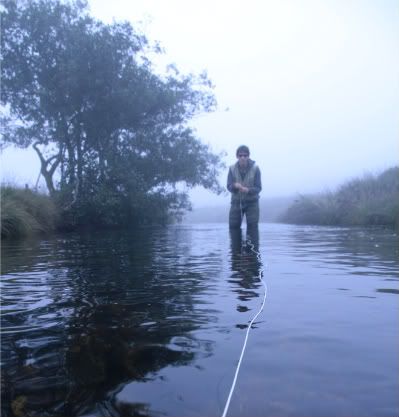 Besides its meandering tourists and centuries of strange history, Dartmoor is also home to some of the most perfect little streams on the planet. I simply love it here- its beauty isn't the twee, picture book type but a wholly more stark, rough cut variety. Cold, twisting rivers fringed by boulders, bogs and barbed wire. Real country.
Andrew Pym joined me today to capture the mood- although starting out in the fog at Two Bridges, you could scarcely make out the other side of the river let alone any rising fish. Prospecting with a small hares ear or spider was the way forward, several cracking little brownies striking at a wet fly.
Slowly but surely, the mist cleared and we moved on to an even smaller stream, Cherry Brook, also now on the Westcountry Angling Passport scheme: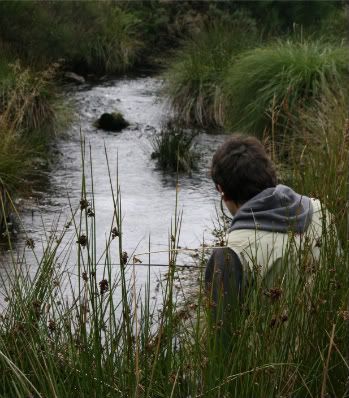 This is extreme close quarters fishing on a waterway often no wider than a fly rod, a case of creeping as close as you dare and dropping a dry fly into the brook to resemble an insect that just tumbled off the heath. Dynamite! Many splashy takes were hit and missed in what proved to be a fun challenge with these vividly coloured, wilder than wild trout, some very diddy but all stunningly marked.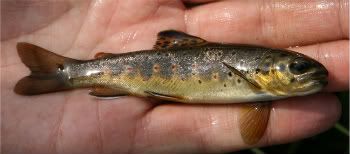 One more stop was in order before calling time, this time on the East Dart at Post Bridge, where you can pick up a fishing ticket at the post office and get straight into the river. No need for wet flies or fancy tactics here- just more wild browns than you can shake a stick (or fly rod) at. They kick, they jump- they slash at anything small and dark. Indeed, when fishing is this much fun size really isn't everything. Credit also due to Andrew for wading through the boulders with an expensive camera- brave man!