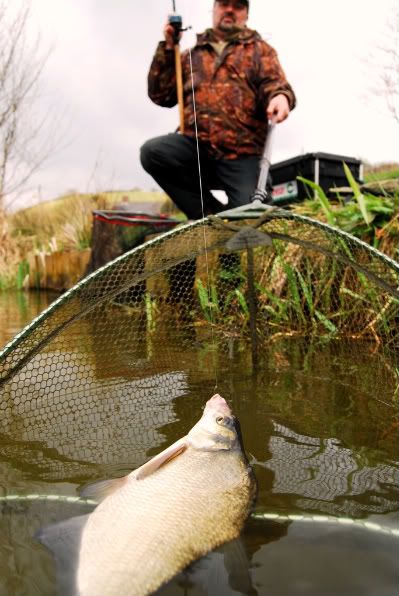 A photographic assignment this week, trying to capture Ian Nadin's light waggler tactics with the aim of a healthy mixed net. How typical though that after days of terrific sun shine and great light, our trip to Tiverton AA's Lakeside fishery at Exebridge proved a fairly dour, cold affair. Nevertheless, with the aid of little and often feeding and light line, the fish were persuaded to bite. We were hoping for skimmers, crucians and tench from this pleasantly challenging fishery- imagine our amazement when the first fish was a greedy brown trout!
I do like Lakeside. It's not overstocked and you have to work at it, but you just never know what you might catch next. Maggots and casters fished on fine 0.10mm hooklengths were just the ticket for shy biting skimmers, roach and hybrids, with a good sized perch and two nice tench also joining the party.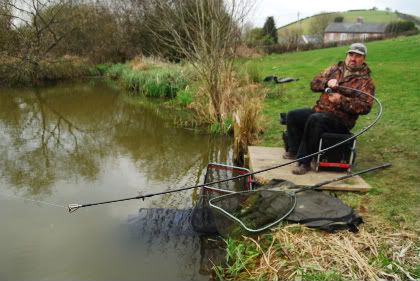 Its always surprising just how timid decent fish can bite- but by dotting an insert waggler right down, Ian got amongst them. It was a pleasure just snapping away as he worked for bites- his classic old Abu 506 reel screaming nicely with the Tincas, a piece of kit made before I was even born!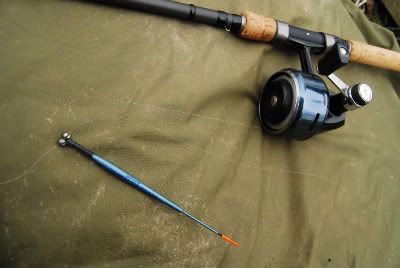 I'm tempted to return without the camera for a bash myself at this place, which has all manner of species. Also curiously refreshing to witness NO carp netted! The only thing missing was one of the venues crucians: funny how you can catch several one day and not a single cru on your next visit. A really colourful mixed bag though: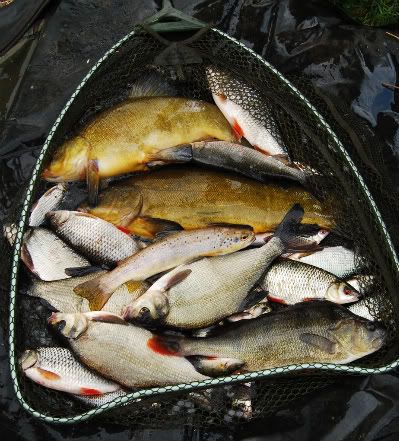 For the record, we had fancied West Pitt Fishery, but the owners have recently tipped a load of small carp into their crucian pond- a really daft situation, which could have a result similar to that at Four Ponds Fishery, where the mixed lake was ruined. Pretty thoughtless and I don't mean to be harsh, but I do wish fishery owners would think before flooding well balanced waters with greedy, small carp. They are literally gobs with fins and the effects can be catastrophic as the shyer species are simply bullied into insignificance. It's not like there's a shortage of carp fishing venues in any case, whereas balanced, sensibly stocked waters with a good range of species are another story. Lakeside is a real gem of a place on that score and whilst there are odd double figure carp the one rod only and no boilies/pellets rules probably keep most carpers away.