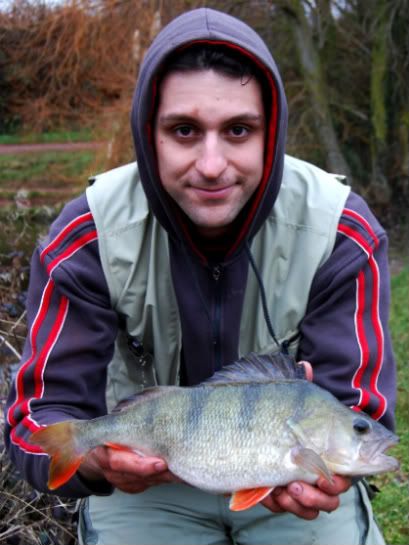 I really have been spoiled of late- some cracking perch fishing on local day ticket waters. Having had to cancel a trout feature today due to a sick photographer, I opted for another session on a small day ticket fishery best known for carp.
I wondered wether I had picked the wrong day on arrival- they had just been netting the place and things were stirred up somewhat. There were a few small dead roach bobbing about too and so after nabbing a few for deadbaits I had a try with the fly rod elsewhere whilst things settled. Fly rod on a muddy lake for perch you ask? -Yes, sometimes I question my own mental well being.
After a walk about, I soon resorted to my usual tactics however- regular helpings of chopped worm and maggot, only this time I also dropped a small dead roach at the bottom of the shelf, just to the edge of my feed area. An hour later and the indicator fairly shot up, I struck early- as you always should with perch- and a weighty but lazy fish plodded away. What can I say?! The fish was absolutely solid and I am one very lucky angler! Another chap kindly took a picture or two whilst we weighed her again just to be sure- bang on three pounds! Perhaps the netting of the fishery was a blessing after all- and you can bet that the perch (and probably the carp also) will be eating up a good number of dead or groggy silver fish right now.