South View fishery at Shillingford is one place I haven't been in ages, but with lots of coloured and cold water around it seemed a safe enough bet for some bites. I was really hoping for some solid perch, but the main aim was a simple pleasure session. I love nothing more for a fun session than the use of a long 17ft float rod and centre pin combo, using a pole style set up for sensitivity.
Feeding a steady stream of maggots and casters is usually a good way to get the small silver fish and perch going and signs looked good at the start; overcast skies, fry showing and several perch to over a pound early on.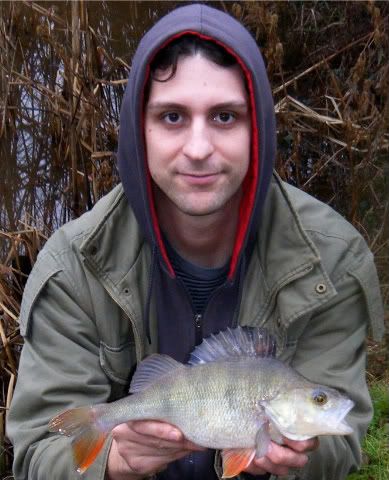 What cracking fish perch are- whatever their size they always brighten up the day. Rather like the resident robins- which were nicking the maggots right out of my bait box. That was before the carp moved in and all else moved on. I knew the score quickly enough- perch and silvers don't send great plumes of silt up as they feed! I tried feeding other lines and trying other baits- to some extent this worked, with more perch and some beautiful rudd showing to chopped worm. Soon enough the carp bullied their way into these areas too. Only the odd perch got through these greedy buggers. I can't really complain as they fought well and made the day full of action- I finished up with a dozen carp to around eight pounds. Worm, caster, maggot... you name it, they scoffed it.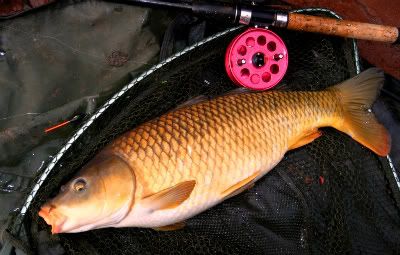 Indeed, some slate our day ticket venues, but they are incredibly consistent even in the ice or the rain. Unlike the canals- Tiverton has been iced for ages, sometimes with a double layer of the stuff. No good for fishing, but some crazy patterns on the surface have kept me amused with the camera, like natural art work, don't you reckon?: