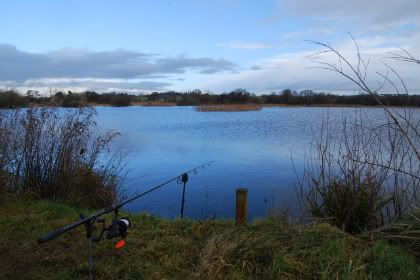 The hunt for perfect piking continues and, big fish or otherwise, the last couple of trips have been scenic if nothing else. Velocity Angling Complex (as pictured above) certainly has the scenic aspect. After a rather muddled journey across Somerset at silly o'clock in the morning, I reached the complex and had a crack at the main lake. Utterly beautiful, I had the luxury of the main 25 acre lake to myself after giving ever helpful fishery boss Shane Alway a call. No more than quarter of an hour in I had a scrappy near ten pounder in the net and thought I was in for one hell of a day. Sadly, the pike had other plans and I only hooked two other jacks all day, one of which came adrift. Nevertheless, I enjoyed the stunning scenery and peace and quiet.
The next free morning off saw a shorter haul to Exeter Canal, on the Turf Locks stretch. Again, great for lovers of crisp, open spaces and scenic fishing. The end section is cormorant infested currently however! I counted twelve birds on my early start and whilst I hate to use the black menace as an excuse, I can't help feeling that these buggers have something to do with the less than dramatic results on this once prolific section. Still, a run eventually ensued and I got my few seconds of excitement; before a very skinny jack came in with scarcely a kick!
The real conclusion on most venues at the moment however is simply that mornings are best; are these pike feeding first thing, then going to sleep? Definitely seems that way- as it often proves even in mid winter, which is also coincidentally the hardest time to drag your backside out of bed for an early session.